Find the latest information on coronavirus and the workplace issues being faced as a result in the construction industry. If your business is being impacted directly by this situation, please let us know about it here.
$10,000 grants for small businesses
Published 3rd April, 2020
Thousands of small businesses across NSW struggling to cope with the COVID-19 shutdown will receive grants of up to $10,000 under a new assistance scheme announced today by Premier Gladys Berejiklian, Treasurer Dominic Perrottet and Minister for Finance and Small Business Damien Tudehope.
The NSW Government will put $750 million into the Small Business Support Fund as the centrepiece of a third wave of support measures to keep small businesses afloat.
Ms Berejiklian said the new fund was based on the hugely successful scheme rolled-out during the recent NSW bushfires, which provided $42 million to 4200 businesses within the first ten days of launching.
"This is about getting cash into small businesses when they are struggling right now in the face of an unprecedented situation," Ms Berejiklian said.
These grants will provide a big boost, and we will make the application process easy to ensure small businesses can receive some cash-flow as soon as possible to meet pressing needs." 
Mr Perrottet said the fund was designed to provide help fast and would benefit tens of thousands of businesses across NSW.
"Many local cafés, restaurants, corner shops, gyms and small accommodation providers will be eligible to apply," Mr Perrottet said.
"We have the structures in place after the bushfires and expect to see this money rolling out the door shortly."
"This is real, rapid relief for tens of thousands of businesses and it will help ensure many businesses that are not eligible for payroll tax waivers and deferrals can live to trade another day."
Mr Tudehope said the fund would offer a vital lifeline for businesses across NSW.
"This is the largest support package for small businesses in the history of NSW, it will make a huge difference to many lives," Mr Tudehope said.
To be eligible, businesses will need to:
Have between 1-19 employees and a turnover of more than $75,000;
A payroll below the NSW Government 2019-20 payroll tax threshold of $900,000;
Have an Australian Business Number as at 1 March 2020, be based in NSW and employ staff as at 1 March 2020;
Be highly impacted by the Public Health (COVID-19 Restrictions on Gathering and Movement) Order 2020 issued on 30 March 2020;
Use the funding for unavoidable business costs such as utilities, overheads, legal costs and financial advice;
Provide appropriate documentation upon application. 
Applications for a small business grant of up to $10,000 will be available through Service NSW within a fortnight and remain open until 1 June 2020.
This latest move follows two assistance packages from NSW in the past fortnight, whose combined value far exceeds the support offered by any other state, including:
More than $5 billion in payroll tax waivers, deferrals and other tax deferrals;
A $1 billion Working for NSW fund to create jobs; 
$700 million in additional funding for the health system; 
$250 million to bring forward capital works and maintenance on public assets;
$500 million to bring forward capital works, maintenance and shovel ready infrastructure projects;
$80 million to waive a range of fees and charges;
$80 million to help the vulnerable through a range of measures.
JOBKEEPER PAYMENT - WHAT YOU NEED TO KNOW
Under the JobKeeper Payment, businesses impacted by the coronavirus will be able to access a subsidy from the Government to continue paying their employees. Affected employers will be able to claim a fortnightly payment of $1,500 per eligible employee from 30 March 2020, for a maximum period of 6 months.
The JobKeeper Payment will support employers to maintain their connection to their employees. These connections will enable business to reactivate their operations quickly – without having to rehire staff – when the crisis is over.
COVID-19 Best Practice Guide for Building Industry
Master Builders NSW has produced a detailed best practice guide for running building sites in the current COVID-19 environment. This guide is current as at 1 April 2020.
COVID-19 Best Practice Guide
5.04 MB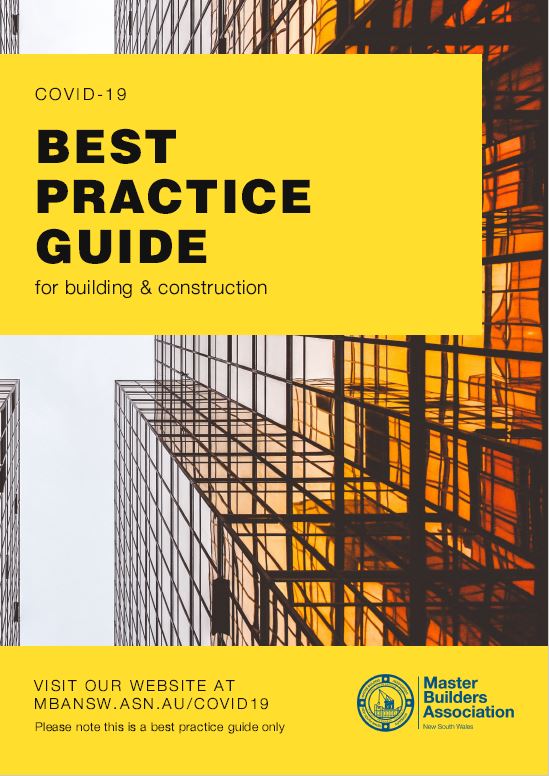 Banks provide loan deferrals to 30,000 businesses
Australian businesses can now access the six-month loan repayment deferral program after the Australian Banking Association (ABA) decided to extend the relief.
Businesses with total loan facilities of up to $10 million will now be able to defer repayments for loans attached to their businesses for six months.
The ABA's support now extends to 98 per cent of all businesses with a loan from an Australian bank.
The new measures will apply in all sectors of the economy, and on an opt-in basis, under the conditions that: 
For commercial property landlords, they provide an undertaking to the bank that for the period of the interest capitalisation, they will not terminate leases or evict current tenants for rent arrears as a result of COVID19;
the customer has advised that its business is affected by COVID-19; 
the customer was current in terms of existing facilities 90 days prior to applying; and
interest is capitalised (meaning either the term of the loan is extended or payments are increased after the deferral period).
NATIONAL CABINET STATEMENT 29/3/20
Prime Minister:
Australian governments met again today as the National Cabinet to take further action to slow the spread of coronavirus to save lives and to save livelihoods.
We will be living with this virus for at least six months, so social distancing measures to slow this virus down must be sustainable for at least that long to protect Australian lives and help Australia to keep functioning. 
National Cabinet noted the latest statistics and medical advice in relation to coronavirus.
Our public health measures are taking effect, with over 211,000 tests undertaken and 3,966 confirmed cases in Australia. 
The rate of increase in the virus curve is slowing, but overall numbers are still increasing. While the majority of cases in Australia are connected to travellers returning to Australia from overseas, there has been some sustained community transmission in areas of Sydney and Melbourne.
National Cabinet noted the extensive work underway to procure more masks, ventilators, gloves, gowns and hand sanitiser from both international suppliers and domestic manufacturers. National Cabinet further noted that the Commonwealth had announced a package of $1.1 billion to boost mental health services, domestic violence support, Medicare assistance for people at home and emergency food relief. 
National Cabinet welcomed the new coronavirus app and WhatsApp channel that were released today by the Commonwealth Government. The app is now available on Apple and Android devices. The WhatsApp channel can be accessed by entering aus.gov.au/whatsapp into your internet browser.
These new platforms provide a trusted source of information for Australians looking for important advice on how they can protect themselves and others, current restrictions on social gatherings, how they can access support and the latest data on Australian cases. 
The app also allows Australians to voluntarily register if they are self-isolating to provide governments with important information to protect public health and safety. 
National Cabinet noted that there have been significant measures put in place that restrict gatherings including limits on retail premises. In some jurisdictions, retail outlets need to be prepared for further measures and adapt to different ways of engaging customers such as online and home delivery services.
Indoor and Outdoor Public gatherings
National Cabinet agreed to limit both indoor and outdoor gatherings to two persons only. 
Exceptions to this limit include:
People of the same household going out together;
Funerals - a maximum of 10 people; 
Wedding - a maximum of 5 people;
Family units. 
Individual states and territories may choose to mandate and/or enforce this requirement. 
National Cabinet's strong guidance to all Australians is to stay home unless for:
shopping for what you need - food and necessary supplies;
medical or health care needs, including compassionate requirements;
exercise in compliance with the public gathering requirements;
work and study if you can't work or learn remotely.
National Cabinet agreed that playgrounds, skate parks and outside gyms in public places will be closed. Bootcamps will be reduced to two persons, including the trainer. 
These measures will be in place from midnight tomorrow night. 
Social Distancing - further measures
National Cabinet discussed further restrictions on activities and venues. Overseas experience indicates further restrictions on personal movement and businesses will be required should the severity of the outbreak worsen in Australia.
States and territories agreed they would implement further measures specific to their own region, including closing categories of venues, where medical advice supported this action. These measures would be risk-based and targeted at non-essential activities.
Australians will still be able to access the goods and services needed to safely and sustainably live their lives.
Advice for Senior Australians including those with existing health conditions
The care and wellbeing of senior Australians remains a priority in this uncertain time.  
All Australians respect and value the contribution that older Australians make to our community. 
Coronavirus has more serious impacts on older Australians, those over 70 years of age and Australians with existing health conditions or comorbidities.
National Cabinet's strong advice is for self-isolation at home to the maximum extent practicable for Australians:
over 70 years of age; 
over 60 years of age who have existing health conditions or comorbidities;
indigenous Australians over the age of 50 who have existing health conditions or comorbidities. 
These groups should limit contact with others as much as possible when they travel outside.
Commercial and residential tenancies
As part of its work on helping businesses hibernate, National Cabinet agreed that short-term intervention is needed for commercial tenancies. Work on this has begun, but there is more to do, including for residential tenancies. 
National Cabinet agreed to a moratorium on evictions over the next six months for commercial and residential tenancies in financial distress who are unable to meet their commitments due to the impact of coronavirus. 
Commercial tenants, landlords and financial institutions are encouraged to sit down together to find a way through to ensure that businesses can survive and be there on the other side. As part of this, National Cabinet agreed to a common set of principles, endorsed by Treasurers, to underpin and govern intervention to aid commercial tenancies as follows:
a short term, temporary moratorium on eviction for non-payment of rent to be applied across commercial tenancies impacted by severe rental distress due to coronavirus;
tenants and landlords are encouraged to agree on rent relief or temporary amendments to the lease;
the reduction or waiver of rental payment for a defined period for impacted tenants;
the ability for tenants to terminate leases and/or seek mediation or conciliation on the grounds of financial distress;
commercial property owners should ensure that any benefits received in respect of their properties should also benefit their tenants in proportion to the economic impact caused by coronavirus;
landlords and tenants not significantly affected by coronavirus are expected to honour their lease and rental agreements; and
cost-sharing or deferral of losses between landlords and tenants, with Commonwealth, state and territory governments, local government and financial institutions to consider mechanisms to provide assistance.
National Cabinet will meet again on Monday 30th March 2020.
Governments Must Not Shut Down Civil Construction Sector
Joint Media Statement - Australian Workers' Union & Master Builders Association 27/3/02
The AWU and Master Builders Australia are jointly calling on governments to ensure the building and construction industry continues to operate, because without it the economic knock-on effects would be devastating on a scale that would dwarf what we have seen to date. 
The shutdown of the construction industry would jeopardise not just those employed directly, but the whole livelihoods of millions of Australians employed in precarious sectors like manufacturing. It would devastate nationally important industries in the building supply chain, like the $30 billion steel industry.
Forcing the industry's closure would also blunt the impact of federal, state and territory government stimulus packages as infrastructure projects would immediately grind to a halt. Civil construction, in particular, must continue to build the nation and can do so safely given the nature of its sites. 
Indeed, the catastrophic threat of a construction shutdown means the whole construction industry has a civic duty to impress upon authorities it can operate while ensuring compliance with social distancing and hygiene requirements.
That means everyone in the industry has to step up and be accountable. Construction companies and project managers must ensure that protocols at their site are enforced. Construction workers owe it to each other and their families to be responsible and do the right thing. This is only the only way the industry can continue working while reducing the risk of COVID-19 transmission. 
In times of crisis people look to unions, industry, and government to work together. We have to show we can not only slow the spread of COIVID-19 but ensure there's an economy left when the crisis is over. 
Scott Morrison Media Release 27/3/20
Prime Minister, Scott Morrison announced a plan to "hibernate Australian business" during the coronavirus crisis. He also said every Australian returning home from overseas will now be quarantined to hotels or other facilities in a bid to slow the spread of the virus.
Queensland border restrictions - building/construction workers exempt
Key points:
The QLD Government has implemented restricted entry to Queensland from 12:01am on 26 March 2020. Anyone who arrives in Queensland (including by road) from another State from this date must self-quarantine for 14 days, unless they are an "exempt person".
Construction is considered a critical service and therefore building and construction workers are exempt. But if you are a NSW resident you are required to to apply for an entry pass.   
The entry pass online application is an easy process and only takes a minute. Choose 'Specialist skills worker' in the category list. 
Once complete a 'Queensland Border Pass' document will be emailed to you. This must be displayed on your passenger-side visor, windscreen or dashboard. 
Queensland police and other emergency officers under the Public Health Act 2005 will be responsible for enforcing the measures. 
Further resources:
Queensland border restrictions fact sheet (PDF)
Further restrictions throughout the community
25/3/20
Last night Prime Minister Morrison announced further restrictions which will apply throughout the community from midnight tonight (25 March 2020).
Whilst the Building and Construction Industry remains largely unaffected by the Prime Minister's latest announcement, particular note should be made to the following:
Auction Houses - closed from midnight 25 March 2020.  Real Estate auctions and open house inspections – by private appointment only
Whilst no specific mention was made of display homes, it would be appropriate to open them by appointment only.
To read the full list of restrictions click here
NSW government passes flexible long service leave changes
25/3/20
Yesterday, the NSW Parliament passed changes to the long service leave law which will create greater flexibility for employers and employees to access leave during the on-going COVID-19 crisis.
The amendments to the Long Service Leave Act 1955 will allow employees to take leave in shorter blocks, such as one day a week, and without the traditional one-month notice period, by agreement with their employer.
NSW Treasurer Dominic Perrottet, who introduced the changes into the NSW Parliament, said the flexibility was very important during a time when businesses are looking at every option to keep staff on their books.
"These changes will provide another way for businesses to help maintain their workforce during what will be an extended period of disruption," Mr Perrottet said.
"We expect this to be an option which will help people get through the next few months and effectively put money in their weekly budgets." 
The legislation took effect for six months from yesterday with the possibility of an extension to one year.
Managing your workers insurance during COVID-19
25/3/20 - icare workers compensation update:
We understand the impact that COVID-19 is having on NSW businesses and we're here to support you.
First and foremost, we encourage our customers experiencing financial difficulties as a result of the COVID-19 disruptions to discuss how we can support you and your policy needs.
 
One of the key impacts facing many of our customers is the need to reduce staff.  We understand how this can impact your wage estimates which in turn impacts your premium.
If you have recently had to reduce your workforce in response to COVID-19 impacts, please get in touch and let us know your revised estimated wages so we can adjust your premium.
 
You can reach out to us on 13 44 22. 
 
COVID-19 and insurance policies
Many governments, including the Australian Government, have now introduced strict travel restrictions and travel advice relating to international travel and most recently Victoria and ACT declaring a State of Emergency.
While much of this will be a test over the coming months, it is likely insurance will not be the remedy to the economic challenges ahead. Unfortunately, many policies either exclude a pandemic or have insuring clauses that would not trigger in this instance.

Contract Works & Liability
Cessation of Works clauses vary between insurers and can be as low as 30 days which can trigger policy exclusions. While self-isolation timeframes are only generally 2-3 weeks, should these periods extend beyond the initial isolation, these exclusions could impact cover. Where staff are not attending site, maintaining a clean safe and secure site is critical. If you feel you will be offsite for an extended period, please contact MBAIS so we can speak to your insurer about the potential of arranging an extension to cover.
Specific to Northern Territory and other regions where indigenous communities have been isolated, this exposure will be more pronounced with exclusions likely to impact cover if sites are left dormant for extended periods, and there is damage resulting. Where sites are abandoned, precautions should be taken to minimize the period of site abandonment, and site security should be maximized where possible.
Lack of availability of materials sourced overseas could potentially allow a contract to be deemed to be 'frustrated' which could allow the builder to argue for time extensions. If locally produced products are available, this would likely not 'frustrate' the contract and would be worn by the builder under most fixed-price contracts. If local/federal governments implement a complete shutdown, this may trigger a force majeure event, but often contracts signed will push liabilities onto the builder for these scenarios.
Generally, in construction insurance much like property insurance, there must be physical damage to the construction site for a loss to trigger. While some may argue that COVID 19 is an unforeseen event, the cover is very unlikely to trigger due to several standard policy exclusions.
Public liability insurance would respond to applicable third party bodily injury (Disease) claims relating to COVID-19, as long as there is no exclusion or if the exclusion only applies to specific policies. However, if somebody held an event in defiance of a government order, there is likely to be no cover.

Travel
Travel insurance policies commonly include exclusions for pandemics and epidemics, which includes viruses such as SARS, Avian and Swine Flu. For these exclusions to be relied upon, the insurer must be able to demonstrate that the virus fits within the exclusion. They must be able to provide evidence such as the Department of Affairs & Trade (DFAT), WHO warnings and also medical evidence.
Whether an insured is covered for cancellation depends on which policy they have taken out and what date they purchased it. Some insureds will not be covered for trip cancellations. Cover for cancellations depends on when the travel policy was taken out. If it was after the Coronavirus was deemed to be a Public Health Emergency, then it will not be covered.
Some travel insurance policies might cover insureds who cancel the remainder of their trips if they were already in China before DFAT raised its travel advice to level 4 (23 January 2020, when the outbreak became a known event). However, after that date, the cover will not be extended due to the exclusion, which is in most, if not all, travel policies.
Travelers may not need to rely on insurance as some airlines are offering full refunds for customers who bought tickets to, from, or via mainland China and issued before the deemed date of knowledge of the Coronavirus.
Likewise, travel policies may cover insureds in the affected region for medical expenses relating to Coronavirus if they commenced the travel before the DFAT advisory was lifted to level 4, which means that policies purchased after that date may not have cover. While this is the case, many insurers are now putting in place exclusions which will mean no medical cover is provided for any international travel which is triggering cancellations for a number of our clients.

Workers Compensation
Coronavirus is a disease which falls within the definition of injury in section 32(1) of the Workers Compensation and Rehabilitation Act 2003 (Qld) (the Act). Comparable legislation applies to other States and Territories. Section 32(3) of the Act specifically provides that an injury includes:
"a disease contracted in the course of employment, whether at or away from the place of employment if the employment is a significant contributing factor to the disease."
If an employee is required to be isolated and is suspected of having the virus but hasn't contracted it, they will not be entitled to a worker's compensation claim. If, however, an employee contracts Coronavirus and can prove it was contracted in the course of employment and employment was a significant contributing factor, the employee would arguably be entitled to workers' compensation. Within Australia, with the virus being not as widespread as other countries, this is still a possibility. Yet, as the virus becomes more prolific, it will be less likely that an employee can identify a link between the virus and their employer.
MBAIS will continue to communicate with clients in the coming days and weeks, but if you have specific queries, please do not hesitate to contact the team on 02 8586 3555.
Letter from NSW Treasurer, Dominic Perrottet, to the construction industry
Below is a letter from the NSW Treasurer, Dominic Perrottet, to the construction industry. It sets out the NSW Government's determination to continue to deliver the NSW infrastructure pipeline during this COVID-19 event. Infrastructure NSW and Government agencies charged with delivering the infrastructure program have been in discussions about how to best work cooperatively with the industry to maintain cash flow, employment and delivery on our projects. Read letter here. 
No Shutdown of the Building and Construction Industry
New COVID-19 restrictions begin but construction sites exempt
23/3/20
Media Release from Gladys Berejiklian - 
In line with health advice, from midday today, the following non-essential activities and businesses will be temporarily shut down:
Pubs, registered clubs
Gyms, indoor sporting venues
Cinemas, entertainment venues, casinos, and night clubs
Restaurants and cafes will be restricted to takeaway and/or home delivery
Religious gatherings, places of worship (excluding small weddings and funerals that comply with the 4m2 rule, which can proceed).
It is important to note essential gatherings at places such as hospitals, workplaces, constructions sites and for public transport are exempt and will continue.
Read full press release here.
Urgent stimulus needed to keep building and construction businesses viable
23/3/20
The Federal Government must urgently provide a new and expansive stimulus package with measures targeted to keeping the building and construction industry and the broader economy strong in the face of the Covid-19 shock. 
Master Builders Australia CEO Denita Wawn said, "Building and construction is vital to the national economy and to local communities right around the country. The livelihoods of the 1 in 10 Australians employed in the industry are at stake as is the viability of the nearly 390,000 small businesses that make up the industry and the thousands of enterprises that supply them." 
"Master Builders commends the Federal Government for the measures it has already announced including the $17.6 billion package for small businesses and households and also the move by the Reserve Bank to provide funds for banks and non-bank lenders to provide support to small businesses through this challenge," she said. 
"They are important measures, but builders and tradies will not have the necessary confidence to take up tax incentives or keep employees and apprentices on their books if they do not have a pipeline of work," Denita Wawn said.

"We are calling for measures such as commissioning local builders to immediately commence maintenance, refurbishment and renovation works on government buildings and facilities around the country. This will not require extensive planning, could be actioned quickly and will provide work for thousands of small businesses in local communities," she said. 
"Bringing forward already budgeted spending on social and transport infrastructure projects, for example, accelerating construction work on projects under way by spending the money allocated for 2021 now will provide an immediate boost," Denita Wawn said. 
"Broad eligibility and simplicity of application and tendering is also important. Too often stimulus measures cannot be accessed by many SMEs due to restrictive eligibility criteria. The shackles must come off and money must be immediately injected into the economy by ensuring that eligibility requirements are as broad and as simple as possible. Giving stimulus measures sunset clauses will ensure that they are targeted only to meet the present danger," she said. 
"These measures could also easily be replicated by state governments and local councils to great effect," Denita Wawn said. 
"The Government must also urgently address the major threat to current building and construction projects posed by the potential enforcement of liquidated damages clauses due to delays caused by a range of Covid-19 related factors including compliance with government measures to slow the spread of Covid-19 such as social distancing, supply shortages and/or labour shortages due to quarantine arrangements," Denita Wawn said.
"The threat of millions of dollars in liquidated damages will quickly be hanging over the heads of the nation's major construction companies and thousands of sub-contractors and threatening their viability. Many businesses will be compelled to close their doors with a resulting loss of jobs that will hurt families and communities," Denita Wawn said.
CFMEU and MBA join forces to battle impact of coronavirus
The MBA and the CFMEU National Construction Division are joining forces to ensure the construction industry remains a backbone of the Australian economy and able to sustain the millions of people dependent upon it throughout the coronavirus crisis. 
Read full media release here
Assistance available to businesses
22/3/19
Please find below a further update on the assistance for businesses as a result of the impacts of COVID-19.
Summary
The Government will today announce a second stage of measures to keep businesses in business and to keep workers in jobs.
This stage of measures is squarely focused on getting businesses and their workers through to the other side of this crisis.
The measures include:
A wage subsidy for small and medium businesses to save jobs; and
A guarantee on loans to small and medium businesses so they can keep in business.
 

1. Support to Keep Australians in Jobs
We are giving businesses a cash payment of up to $100,000 for the period March 2020 to September 2020.
That payment will be worth 100% of the tax those small and medium businesses, with a turnover less than $50 million, are withholding from their employees salary and wages.
The payment will be tax free. It will now also be available to eligible charities or other not-for-profit entities.

How the Payment Works
Eligible businesses that withhold tax to the ATO on their employees' salary and wages – they report it each month or quarter anyway - will receive a payment equal to 100 per cent of the amount withheld, up to a maximum payment of $100,000.
Eligible businesses that pay salary and wages will receive a minimum payment of $20,000, even if they are not required to withhold tax.
In our first package we announced the cash payment would be 50% of tax withheld worth up to $25,000 in payments or a minimum of $2,000.
This announcement builds on the cash flow boost from the first package worth $6.7 billion.  This new measure is worth $25.2 billion so in total it's worth $31.9 billion.
The Government expects it will benefit around 690,000 businesses employing around 7.8 million people and 30,000 not-for-profits.
We estimate these businesses employ:
NSW – Around 2.5 million people
Vic – Around 2 million people
Qld – Around 1.5 million people
WA – Around 810,000 people
SA – Around 480,000 people
TAS – Around 155,000 people
NT – Around 63,000 people
ACT – Around 115,000 people

2. Supporting Small Business to Get to the Other Side With Loans
We are announcing a new Coronavirus SME Guarantee Scheme to support small and medium business with a turnover less than $50 million.
This measure complements the $8 billion worth of measures the banks announced this week to defer repayments for 6 months for small and medium businesses battling the impacts of coronavirus.
The Coronavirus SME Guarantee Scheme will be able to be accessed by eligible banks and non-bank lenders.
Details
Under the Scheme, the Commonwealth will guarantee 50%, through the participating banks, of an eligible loan to small and medium enterprise customers that have been impacted by the coronavirus.
The Scheme will have the capacity to support lending of $40 billion to small and medium businesses.
Loans will be used for working capital purposes and be unsecured and it will be for loans granted within 6 months starting 1 April 2020.
The Scheme will apply to new or existing customers of banks and non-bank lenders.
Lenders will not be charged a fee for accessing the Scheme.
It will be repayment free for 6 months.
The maximum loan will be $250,000 for a term up to 3 years.
It will not apply to re-financing of existing customers. Those already have existing loans that will benefit from the ABA announcement.
Through this measure, the Government is offering to guarantee $20 billion.
The Australian banking sector announced on 19 March 2020 significant measures – that many individual banks went further than – to support existing loans. Click here for more info.
Today's announcement also follows the announcement by the Government on 19 March 2020, together with the Reserve Bank, to inject more than $100 billion into the Australia's financial system. Please click here for the Government's release and here for the Reserve Bank's release.
Coronavirus and building contracts
The impact of the Coronavirus is profound and may well extend for some time.  MBANSW members should note the following in relation to their contracts.
Delays
Delays may occur for several reasons in the current circumstances but predominately for lack of materials or people.
Contracts need to be checked for appropriate clauses that may deal with such delays and possibly provide an entitlement to an extension of time. If a contract has an entitlement to an extension of time there may be particular notice requirements.
For example both the MBANSW BC4 Residential Building and Cost Plus Residential contracts have provision for extensions of time due to shortages or delays in trades or materials which affect the builder's ability to continue with the work.  No costs are claimable.
Frustration and Force Majeure
The doctrine of frustration may apply if there is an event beyond the control of the parties that makes the contractual obligation incapable of being performed because the changed circumstances renders it radically different from what was agreed in the contract.
Frustration is difficult to prove and an event that makes it more difficult or costly to perform the contract will not render the contract frustrated. Careful consideration must be made as to a party's ability to perform its contractual obligations.  This can be very complex.
Force majeure relief would require a specific provision in the contract and depends on the exact terms.  They are not common in residential or smaller contracts.
What To Do
Check your current contracts for extension of time entitlements, force majeure clauses and notice requirements (be careful of time bars).
Reconsider entering into contracts that you are contemplating and/or whether special conditions are needed to take into account the Coronavirus.
Discuss any difficulties with your client.
If you have any difficulties or enquiries then please contact MBA Lawyers on (02) 8586 3517.
Questions to ask your workers in relation to covid-19
The following set of questions may be used as part of an induction, a toolbox talk or through other consultative arrangements to ascertain the level of risk to your workplace.
Ideally, this should be delivered outside in an open-air environment standing 1.5m away from the nearest person(s).
Corona Virus (COVID-19) Questionnaire
Have you recently returned from overseas travel in the last 14 days? 
If yes - Required to Self-Isolate for 14 days from date of arrival into Australia.
 
Have you been in contact with a person confirmed sick with COVID-19? 
If yes - Required to Self-Isolate for 14 days from date of contact.
 
Do you have any of the following symptoms "Having travelled overseas" in last 14 days: Fever, cough, runny nose, shortness of breath & other symptoms. 
If yes - Call GP to arrange appointment & Required to Self-Isolate for at least 14 days pending examination.
 
Do you have any of the following symptoms "Without having travelled": Fever, cough, runny nose, shortness of breath and other symptoms. 
If yes - Call GP to arrange appointment and discuss symptoms.
 
Are you planning on travelling overseas in the near future? 
If yes – Let your employer know prior to leaving to arrange a return to work timeline.
Protecting against COVID-19 (Procedure)
Include Corona Virus (COVID-19) Questionnaire / Screening into your organisations induction agenda, along with signed declaration by the site management representative that "to the utmost of my powers, I have communicated (or have had someone translate) the Corona Virus (COVID-19) Questionnaire and Procedure to the inductee / toolbox attendee.
 
Consult with all interested parties associated with your organisations business or undertaking to request they screen themselves and their workers for COVID-19 prior to attending a workplace under the management or control of your organisation.
 
Ensure the Corona Virus (COVID-19) Questionnaire is communicated and / or translated to all persons undertaking an induction. 
 
Consider limiting or reducing recirculated air-conditioning in workplaces.
 
Monitor, communicate and amend Corona Virus (COVID-19) Questionnaire with daily updates by the NSW Health Department as necessary.
 
Ensure regular consultative arrangements include current updates from the NSW Health Department and allows for participative engagement by the workers to raise any concerns they may have.
 
Provide additional hand sanitizers and washing stations where reasonably practicable.
 
Display signage relevant to maintaining a hygienic work environment (see below links for signage).
NSW Department of Health – Coronavirus FAQ's
Simple Steps to Help Stop the Spread
Have You Recently Travelled Overseas?
Social Distancing
Avoid crowds and mass gatherings where it is difficult to keep the appropriate distance away from others.
 
Avoid small gatherings in enclosed spaces.
 
Endeavor to conduct consultation meetings in large open areas (outside if possible and ensure participants stand apart by at least 1.5m and safe to do so).
 
Avoid shaking hands, hugging or kissing other people.
 
Avoid visiting or conducting works near vulnerable people.
Home Isolation
If you are self-isolating you should stay in a different room from other people or be separated as much as possible, especially with those at risk of severe diseases (such as elderly people with heart, lung or kidney conditions and diabetics). People who have symptoms and might be infected with COVID-19 should wear surgical face masks when in the same room as another person & when seeking medical advice to reduce the risk of transmitting COVID-19 to anyone else. Face masks are not recommended for the general population.
 
If someone in your household is self-isolating the aforementioned control measures should be adhered to. Other members of the household are not required to be isolated unless they have been overseas in the last 14 days or have been in close contact of a confirmed COVID-19 case.
More Information and Support
Call the National Coronavirus Health Information line on 1800 020 080.
 
NSW stimulus package to help mitigate coronavirus impact
Premier Gladys Berejiklian said the stimulus package is designed to keep people in jobs throughout the corona crisis and to boost a range of medical services throughout the State.  
As part of the recently announced measures, $450 million has been allocated to waive payroll tax for businesses with payrolls of up to $10 million for three months.
Master Builders understands that this will become effective from May 2020, which means these businesses will not have to pay payroll tax for the rest of the financial year.
The next round of payroll tax cuts has also been brought forward.  This means that for the next financial year 2020-2021, the threshold limit for a business in NSW to have to pay payroll tax will be $1 million. 
Other parts of the stimulus package include:
$80 million for fees and charges to be waived for small businesses such as cafes, restaurants and those in trades;
$250 million for public schools and state-owned buildings to employ more cleaners;
NSW Health will receive $700 million to help double the capacity of intensive care units State-wide.
 
Coronavirus and workplace issues
Coronavirus is likely to present challenges for businesses regarding workplace safety and industrial relations.  From a health and safety perspective, information can be found by clicking on the following links:
Department of Health – for the latest information and advice about Coronavirus
Safe Work Australia – for information and referrals about dealing with Coronavirus in the workplace
Your State or Territory workplace health and safety body

What happens if an employee or their family member is sick with Coronavirus?
Full and part-time employees who can't come to work because they are sick can take paid sick leave.  If an employee needs to look after a family member or member of the employee's household who is sick with Coronavirus, or suffering an unexpected emergency, they are entitled to take paid carer's leave.
Casual employees are entitled to 2 days of unpaid carer's leave per occasion.  Full and part-time employees can take unpaid carer's leave if they have no paid sick or carer's leave left.
An employee must give their employer evidence of the illness or unexpected emergency if their employer asks for it.

What if an employee is stuck overseas or require to be quarantined?
Employees should contact their employer immediately if they are unable to attend work because they can't return from overseas or are required to enter quarantine because of the Coronavirus.
You can find up-to-date information on quarantine requirements on the Department of Health's website.

What if an employee wants to stay home as a precaution?
If an employee wants to stay at home as a precaution against being exposed to Coronavirus, they will need to make a request to work from home (if possible) or take some form of paid or unpaid leave, such as annual leave or long service leave.  These requests are subject to the normal leave application process in the workplace.
Employees are encouraged to discuss their level of risk of contracting Coronavirus with their doctor and their workplace health and safety representative.

What if an employer wants their staff to stay home?
You can find up-to-date information on quarantine requirements on the Department of Health's website.
Under work health and safety laws, employers are required to ensure the health and safety of their workers and others at the workplace (as far as is reasonably practical).  Workers also have responsibilities under those laws.
If an employee is at risk of infection from Coronavirus (for example, because the employee has recently travelled through mainland China, or has been in close contact with someone who has the virus), you should request the employee seek medical clearance from a doctor and to work from home (if possible), or not work during the risk period.  Where an employer directs a full-time or part-time employee not to work, the employee would ordinarily be entitled to be paid while subject to the direction.  You should consider your obligations under any applicable enterprise agreement, award, employees' contracts of employment, and workplace policies.  Members can seek advice from the Association's Industrial Relations Department on this point.
Under the Fair Work Act, an employee can only be stood down without pay if they can't do useful work because of equipment break down, industrial action or a stoppage of work for which the employer can't be held responsible.  The most common scenario usually involves a natural disaster.  Enterprise agreements and employment contracts can have different or extra rules about when an employer can stand down an employee without pay.  Again, the Association's Industrial Relations Department can assist members in this regard.
Members need to balance their legal obligations, including those relating to anti-discrimination.
More information:
Directing an Employee to take annual leave
Construction sites are an essential service and will remain open
The Prime Minister in his statement updating the community on Coronavirus measures explicitly stated that construction sites are an essential service and will remain open. 
In reference to non-essential gatherings of greater than 100 people not being permitted from 20 March, the Prime Minister stated that: 
"This does not apply to essential activities such as public transportation facilities, medical and health care facilities, pharmacies, emergency service facilities, correctional facilities, youth justice centres or other places of custody, courts or tribunals, Parliaments, food markets, supermarkets and grocery stores, shopping centres, office buildings, factories, construction sites, and mining sites, where it is necessary for their normal operation (although other social distancing and hygiene practices may be required in these settings)."
The full statement can be found on the Prime Minister's website https://www.pm.gov.au/media/update-coronavirus-measures