COVID-19 Best Practice Guide for Building & Construction
This Best Practice Guide has been developed by the Master Builders Association of NSW. It is regularly updated to reflect the latest Government announcements and directions from NSW Health. 
This guide is current as at 1 September 2021.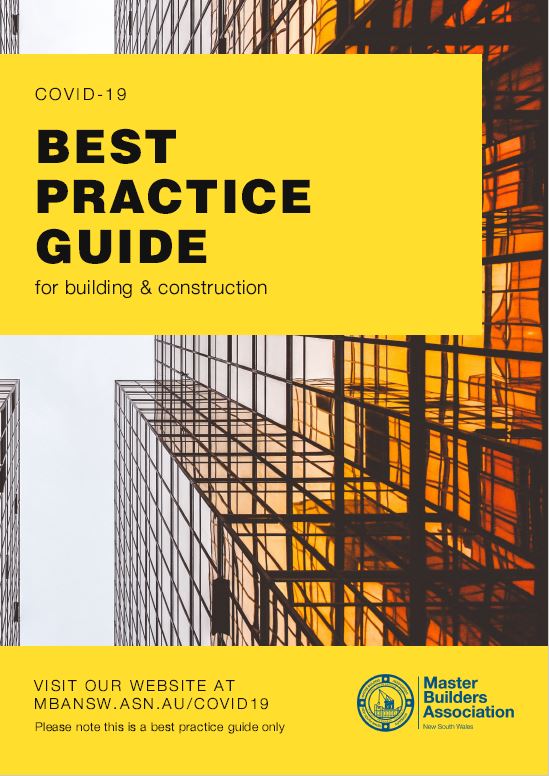 Previous versions:
v6.0_COVID-19 Best Practice Guide 24 August 2021
v5.0_COVID-19 Best Practice Guide 23 July
v4.0_COVID-19 Best Practice Guide July 2021
COVID-19 Best Practice Guide May 2020
---
COVID-19 Safety Plan
All construction sites in Greater Sydney must have a COVID-19 Safety Plan in place. The plan was developed by the NSW Government in consultation with industry. It is also recommended for all construction sites in NSW.
Once you complete the COVID-19 Safety Plan, a confirmation email will be sent to you with a copy of your plan attached as a PDF. You must keep a copy of your COVID-19 Safety Plan on your site at all times.
Sample plan: Click here to download a completed sample COVID-19 Safety Plan.
---
FAQs
Search through our list of FAQs to find the answer to your question. We'll update this content as much as possible, but please keep in mind that with the constant updates and changes being made to the rules and restrictions, there may be a delay and some information may become our of date.
---
Webinar - Industry Shutdown
Construction Industry Shutdown webinar on 21st July was very popular and quickly reached capacity. If you missed out, don't worry. The session was recorded for all members and is now available to watch anytime. 
 
You can watch the webinar here.
---
Managing your workers compensation insurance during COVID-19
A message from icare:
We understand the impact that COVID-19 is having on NSW businesses and we're here to support you.
First and foremost, we encourage our customers experiencing financial difficulties as a result of the COVID-19 disruptions to discuss how we can support you and your policy needs.
 
One of the key impacts facing many of our customers is the need to reduce staff.  We understand how this can impact your wage estimates which in turn impacts your premium.
If you have recently had to reduce your workforce in response to COVID-19 impacts, please get in touch and let us know your revised estimated wages so we can adjust your premium.
 
You can reach out to us on 13 44 22. 
---
COVID-19 Long Service Leave Act Amendment
On 24 March 2020, NSW Parliament passed temporary laws which created more flexibility for employers and workers to access long service leave in advance during the ongoing COVID-19 crisis. These laws are effective on and from 25 March 2020.
The amendments allow employees to take leave in shorter blocks, such as one day a week, and without the traditional one-month notice period, by agreement with their employer.
The legislation took effect for six months from 24th March 2020 with the possibility of an extension to one year. Read more here.
---
COVID-19 and insurance policies
From the increasing strains on health systems to once busy cities now left quiet and deserted, COVID-19 is the most serious global health crisis for a generation. And with contagion, uncertainty and lockdown come economic dislocation and market turmoil.
While much of this will be a test over the coming months, it is likely insurance will not be the remedy to the economic challenges ahead. Unfortunately, many policies either exclude a pandemic or have insuring clauses that would not trigger in this instance. Read more here about Contract Works & Liability and Workers Compensation insurance policies in relation to COVID-19.