2/09/21 - COVID-19 economic support measures extended
The Berejiklian Government today announced an additional $3.9 billion in funding, including $1.5 billion from the Commonwealth, as part of its COVID-19 economic support package providing ongoing assistance to businesses and individuals affected by current lockdown restrictions across the State.
 
This additional funding will extend the successful JobSaver program and Micro-business Grant and continue rent relief incentives.
 
Additional relief for businesses will also be provided with further reductions in payroll tax as well as allowing eligible businesses to defer their payroll tax payments, due from July 2021 through to December 2021, until the 14 January 2022 with 12-month interest free repayment plans to be available.
 
Treasurer Dominic Perrottet said this further $3.9 billion in ongoing support would be vital to help keep businesses in business and people in jobs.
 
"We are giving businesses, employees and families across the State certainty they can access the financial help needed to get them through," Mr Perrottet said.
 
"We know business and communities are doing it tough and this ongoing support will not only help get them through the depths of the pandemic but will also provide them with a springboard to bounce back once restrictions ease.
 
"We will continue to stand by businesses and individuals and provide the support needed. We will also be there on the other side as we emerge from lockdown and head towards recovery."
 
The NSW Government has now committed $7.7 billion in COVID-19 support measures, with a further $3.4 billion from the Commonwealth, bringing the total assistance for businesses and individuals to more than $11 billion.
 
The NSW Government's additional $3.9 billion funding commitment will provide:
 
Extension of JobSaver from 28 August
 
Eligible businesses with a turnover between $75,000 to $250 million that continue to experience a minimum 30 per cent decline in turnover due to the Public Health Order will be eligible for payments of up to 40 per cent of their pre-COVID weekly NSW payroll;
Eligible businesses in the hospitality, tourism and recreation sectors with a turnover of more than $250 million and up to $1 billion that continue to experience the requisite decline in turnover due to the Public Health Order will be eligible to receive payments of 40 per cent of their pre-COVID weekly NSW payroll, up to $500,000 per week;
Eligible Not-for-Profit (NFP) organisations in the social support and animal welfare sectors with a turnover between $75,000 and $250 million that show a minimum 15 per cent decline in turnover will be eligible for payments of up to 40 per cent of their pre-COVID weekly NSW payroll. Eligible NFPs will be able to apply from later in September to access backdated payments.
 
Extension of the COVID-19 Micro-business Grant from 28 August
 
Eligible businesses with a turnover of more than $30,000 and less than $75,000 that continue to experience a minimum 30 per cent decline in turnover due to the Public Health Order will be eligible for a fortnightly payment of $1,500.
 
Extension of payroll tax deferrals and waivers
 
Businesses eligible for a 2021 COVID-19 Business Grant or JobSaver with payrolls $10 million or less will be eligible for a 50 per cent reduction (waiver) in their 2021-22 payroll tax, up from 25 per cent.
All businesses will also be able to further defer payroll tax payments due from July 2021 through to December 2021. The payments will now not be due until 14 January 2022, and 12-month interest free repayment plans will become available.
 
Extension of support for commercial, retail, and residential landlords
 
Eligible commercial and retail landlords that provide rental waivers to COVID[1]19 impacted tenants and have not claimed land tax relief, will be eligible for a monthly grant of up to $3,000; and
Eligible residential landlords can choose between applying for land tax relief or a further payment of $1,500, taking total assistance to a maximum of $4,500 per tenancy if they agree to reduce the rent for COVID-19 impacted tenants by at least $4,500.
 
Minister for Digital and Minister for Customer Service Victor Dominello said the Government will continue to prioritise the fast payment of funds to businesses.
 
"We've put on close to 500 assessors in recent weeks and refined the application process. As a result, the number of applications older than 14 days is less than one per cent," Mr Dominello said.
 
"We're continuing to tailor our financial assistance to meet the needs across NSW and working around the clock to process applications and get money into accounts as quickly as possible. To date, we've approved more than 300,000 business grant and seen $3.3 billion out the door."
 
A new hardship panel will also assess businesses that do not qualify for COVID-19 grants, on a case-by-case basis.
 
Minister for Finance and Small Business Damien Tudehope said the extension of these measures would be a major boost for small businesses throughout NSW.
 
"Businesses are experiencing one of the toughest periods right now and as restrictions continue, we've heard loud and clear that businesses across the state need this ongoing support and more to get them through to the other side of this," Mr Tudehope said.
 
"The extension of JobSaver and Microbusiness payments announced today combined with more payroll tax relief will give thousands of businesses the extra assistance they need as we move forward to focus on opening the doors and turning the lights on once restrictions ease.
 
"We simply cannot and will not turn away from small businesses in NSW - they need our support and the NSW Government is standing by them."
 
For more information on the 2021 COVID-19 Support Package visit: https://www.nsw.gov.au/covid-19/2021-covid-19-support-package.
 
Support for individuals impacted by the current COVID-19 restrictions and stay-at-home orders is also available through Services Australia. For more information visit: www.servicesaustralia.gov.au/covid19.
26/8/21 New freedoms for vaccinated
People across NSW who have received both doses of a COVID-19 vaccine will be allowed more freedoms next month after NSW hit the target of six million jabs. 
From 12.01am, Monday, 13 September:
For those who live outside the LGAs of concern, outdoor gatherings of up to five people (including children) will be allowed in a person's LGA or within 5km of home.
For those who live in the LGAs of concern, and who have responded to the call out to get vaccinated, households with all adults vaccinated will be able to gather outdoors (including picnics) within the existing rules (for one hour only, outside curfew hours and within 5km of home).
Read full release here
10/8/21 (COVID-19 Additional Restrictions for Delta Outbreak) Amendment (No 23) Order 2021
The NSW Government has published the abovementioned Health Order (HO). This HO which commences from 12.01am on 11 August 2021 provides for the re-opening of the Building and Construction Industry in the Greater Sydney Area. The HO contains a number of Directions from the NSW Minister for Health. 
Read the Health Order here. 
9/8/21 - Public Health (COVID-19 Additional Restrictions for Delta Outbreak) Order
Public Health (COVID-19 Additional Restrictions for Delta Outbreak) Order 2021

Dated 26 June 2021.
As amended on 28 June 2021 at 7:36pm, 7 July 2021, 8 July 2021, 9 July 2021, 10 July 2021, 13 July 2021, 16 July 2021, 17 July 2021, 18 July 2021 at 6:10pm, 20 July 2021 at 10:44am, 21 July 2021 at the beginning of the day and at 9:47am, 22 July 2021 at 7:18pm, 23 July 2021, 27 July 2021 at 1pm, 28 July 2021, 29 July 2021, 5 August 2021 at 5pm, 7 August 2021 at 5pm and 8 August 2021 at 5pm.
Download full Health Order here
893.46 KB
7/8/21 CONSTRUCTION WORKERS ENCOURAGED TO GET VACCINATED TO RETURN TO WORK
Unoccupied construction sites across Greater Sydney, including the Central Coast, Blue Mountains, Wollongong and Shellharbour, will operate at 50 per cent capacity from this Wednesday with enhanced COVID safe measures helping to sustain industry, boost the  economy and keep workers safe.
Deputy Premier and Minister for Regional NSW, Industry and Trade John Barilaro said next week unoccupied construction sites will resume work with new worksite capacity limits and introduce minimum vaccination requirements for workers from the eight affected local government areas (LGAs). 
Read full media release here
18/7/21 - Health Order with details on closure of construction sites
Public Health (COVID-19 Temporary Movement and Gathering Restrictions) Amendment (No 8) Order 2021

The NSW State Government has now issued the abovementioned Health Order.
Key sections for construction industry: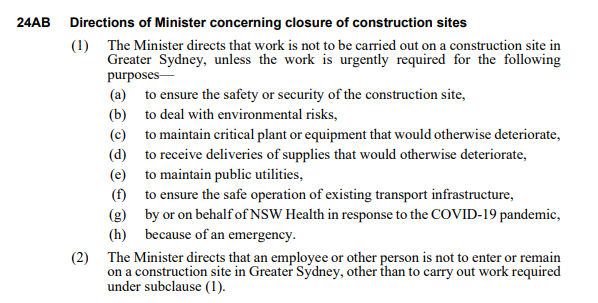 After Monday 19 July, limited construction work may be carried out at a construction site in relation to a dwelling in which a person is residing only if the work is urgently required-



Examples of the very limited work which may be carried out could include the repair of a hole in a roof, to repair a hot water service or waste disposal work can be carried out on common property of residential premises.
13/7/21 - NSW COVID-19 Support Package
Joint media statement with The Hon Scott Morrison MP Prime Minister. 
The Morrison Government is upgrading its national response to COVID-19 outbreaks with increased weekly payments for households, and boosting business cash flow to get them through extended lockdowns.
The new national arrangements have been developed following close cooperation between the Commonwealth and NSW governments to ensure additional support is targeted and rolls out as quickly as possible under a new cost sharing agreement.
The support package will see an increase in the COVID-19 Disaster Payment from week four of a lockdown and a 50/50 cost sharing arrangement between the Commonwealth and the NSW Government for a new and expanded small to medium business support package, implemented and administered by NSW.
This level of support will apply nationally to any state or territory that experiences an extended lockdown beyond week three following the declaration of a Commonwealth hotspot.
COVID-19 Disaster Payment
The Commonwealth will enhance and expand the support available to NSW and other states that experience an extended lockdown.
Specifically, the Commonwealth will:
From week four of a lockdown because of a Commonwealth declared hotspot, the COVID-19 Disaster Payment will increase from $500 to $600 each week if a person has lost 20 hours or more of work a week or $325 to $375 each week if a person has lost between 8 and 20 hours of work.
Make the COVID-19 Disaster Payment a recurring payment for approved recipients for as long as the Commonwealth declared hotspot and lockdown restrictions remain in place. This will remove the need for recipients to re-claim for each seven day period of a lockdown.
Amend the COVID-19 Disaster Payment so that a person would be eligible for the payment, including where they are still working, provided they have lost more than 8 hours or a full day of work.
From 18 July 2021 the COVID-19 Disaster Payment will be available to those outside Commonwealth declared hotspots in NSW that meet the criteria for the payment. 
The NSW Government will fund any payments outside a Commonwealth declared hotspot, with the Commonwealth continuing to fund payments to recipients in a Commonwealth declared hotspot.
This arrangement will be available to other states and territories for future lockdown as a result of a Commonwealth declared hotspot.
Information about how to apply for COVID-19 Disaster Payment can be found on the Services Australia website.
Small and medium business support payments
From week four of the lockdown, the Commonwealth will fund 50 per cent of the cost of a new small and medium business support payment to be implemented and administered by Service NSW. 
Eligible entities will receive 40 per cent of their NSW payroll payments, at a minimum of $1500 and a maximum of $10,000 per week.
Entities will be eligible if their turnover is 30 per cent lower than an equivalent two week period in 2019.
The new small to medium business support payment will be available to non-employing and employing entities in NSW, including not for profits, with an annual turnover between $75,000 and $50 million.
To receive the payment, entities will be required to maintain their full time, part time and long term casual staffing level as of 13 July 2021.
For non-employing businesses, such as sole traders, the payment will be set at $1,000 per week.
Businesses can register their interest from 14 July 2021 at Service NSW.
The assistance will cease when current lockdown restrictions are eased or when the Commonwealth hotspot declaration is removed.
Commonwealth business tax relief
The Commonwealth will also provide additional support through the tax system, by:
Making NSW small business grants, including the new small business payments, tax exempt.
Providing administrative relief to NSW taxpayers facing hardship, including reduced payment plans, no interest charged on late payments and varying instalments on request.
Mental health support
The Commonwealth and NSW governments will deliver a $17.35 million mental health support package for NSW including:
A boost for crisis and mental health services including for Lifeline, free 24 hour support via Sonder and counselling for perinatal depression and anxiety
Funding for mental health support for vulnerable and culturally and linguistically diverse communities
Assistance for young people through headspace, Kids Helpline and the Butterfly Foundation
The increase in support for states and territories experiencing extended lockdowns is part of the Government's plan to secure Australia's recovery from the COVID-19 recession.
The support comes in addition to existing Commonwealth programs such as HomeBuilder, the expanded instant asset write off, additional support for retaining and training apprentices as well as record support for mental health and women's safety announced in the Budget.
As the pandemic evolves, so too does the Government's support for Australians across the country.
26/6/21 COVID-19 restrictions extended in NSW
Published: 26 Jun 2021  Released by: The Premier, Minister for Health and Medical Research
Current stay-at-home orders will be extended across all of Greater Sydney including the Blue Mountains, Central Coast and Wollongong from 6pm today (26 June) until 11.59pm Friday, 9 July.
25/6/21 Public Health (COVID-19 Greater Sydney) Order (No 2) 2021
As ammended on 25 June 2021
NATIONAL CABINET STATEMENT 29/3/20
Prime Minister:
Australian governments met again today as the National Cabinet to take further action to slow the spread of coronavirus to save lives and to save livelihoods.
We will be living with this virus for at least six months, so social distancing measures to slow this virus down must be sustainable for at least that long to protect Australian lives and help Australia to keep functioning. 
National Cabinet noted the latest statistics and medical advice in relation to coronavirus.
Our public health measures are taking effect, with over 211,000 tests undertaken and 3,966 confirmed cases in Australia. 
The rate of increase in the virus curve is slowing, but overall numbers are still increasing. While the majority of cases in Australia are connected to travellers returning to Australia from overseas, there has been some sustained community transmission in areas of Sydney and Melbourne.
National Cabinet noted the extensive work underway to procure more masks, ventilators, gloves, gowns and hand sanitiser from both international suppliers and domestic manufacturers. National Cabinet further noted that the Commonwealth had announced a package of $1.1 billion to boost mental health services, domestic violence support, Medicare assistance for people at home and emergency food relief. 
National Cabinet welcomed the new coronavirus app and WhatsApp channel that were released today by the Commonwealth Government. The app is now available on Apple and Android devices. The WhatsApp channel can be accessed by entering aus.gov.au/whatsapp into your internet browser.
These new platforms provide a trusted source of information for Australians looking for important advice on how they can protect themselves and others, current restrictions on social gatherings, how they can access support and the latest data on Australian cases. 
The app also allows Australians to voluntarily register if they are self-isolating to provide governments with important information to protect public health and safety. 
National Cabinet noted that there have been significant measures put in place that restrict gatherings including limits on retail premises. In some jurisdictions, retail outlets need to be prepared for further measures and adapt to different ways of engaging customers such as online and home delivery services.
Indoor and Outdoor Public gatherings
National Cabinet agreed to limit both indoor and outdoor gatherings to two persons only. 
Exceptions to this limit include:
People of the same household going out together;
Funerals - a maximum of 10 people; 
Wedding - a maximum of 5 people;
Family units. 
Individual states and territories may choose to mandate and/or enforce this requirement. 
National Cabinet's strong guidance to all Australians is to stay home unless for:
shopping for what you need - food and necessary supplies;
medical or health care needs, including compassionate requirements;
exercise in compliance with the public gathering requirements;
work and study if you can't work or learn remotely.
National Cabinet agreed that playgrounds, skate parks and outside gyms in public places will be closed. Bootcamps will be reduced to two persons, including the trainer. 
These measures will be in place from midnight tomorrow night. 
Social Distancing - further measures
National Cabinet discussed further restrictions on activities and venues. Overseas experience indicates further restrictions on personal movement and businesses will be required should the severity of the outbreak worsen in Australia.
States and territories agreed they would implement further measures specific to their own region, including closing categories of venues, where medical advice supported this action. These measures would be risk-based and targeted at non-essential activities.
Australians will still be able to access the goods and services needed to safely and sustainably live their lives.
Advice for Senior Australians including those with existing health conditions
The care and wellbeing of senior Australians remains a priority in this uncertain time.  
All Australians respect and value the contribution that older Australians make to our community. 
Coronavirus has more serious impacts on older Australians, those over 70 years of age and Australians with existing health conditions or comorbidities.
National Cabinet's strong advice is for self-isolation at home to the maximum extent practicable for Australians:
over 70 years of age; 
over 60 years of age who have existing health conditions or comorbidities;
indigenous Australians over the age of 50 who have existing health conditions or comorbidities. 
These groups should limit contact with others as much as possible when they travel outside.
Commercial and residential tenancies
As part of its work on helping businesses hibernate, National Cabinet agreed that short-term intervention is needed for commercial tenancies. Work on this has begun, but there is more to do, including for residential tenancies. 
National Cabinet agreed to a moratorium on evictions over the next six months for commercial and residential tenancies in financial distress who are unable to meet their commitments due to the impact of coronavirus. 
Commercial tenants, landlords and financial institutions are encouraged to sit down together to find a way through to ensure that businesses can survive and be there on the other side. As part of this, National Cabinet agreed to a common set of principles, endorsed by Treasurers, to underpin and govern intervention to aid commercial tenancies as follows:
a short term, temporary moratorium on eviction for non-payment of rent to be applied across commercial tenancies impacted by severe rental distress due to coronavirus;
tenants and landlords are encouraged to agree on rent relief or temporary amendments to the lease;
the reduction or waiver of rental payment for a defined period for impacted tenants;
the ability for tenants to terminate leases and/or seek mediation or conciliation on the grounds of financial distress;
commercial property owners should ensure that any benefits received in respect of their properties should also benefit their tenants in proportion to the economic impact caused by coronavirus;
landlords and tenants not significantly affected by coronavirus are expected to honour their lease and rental agreements; and
cost-sharing or deferral of losses between landlords and tenants, with Commonwealth, state and territory governments, local government and financial institutions to consider mechanisms to provide assistance.
National Cabinet will meet again on Monday 30th March 2020.
Governments Must Not Shut Down Civil Construction Sector
Joint Media Statement - Australian Workers' Union & Master Builders Association 27/3/02
The AWU and Master Builders Australia are jointly calling on governments to ensure the building and construction industry continues to operate, because without it the economic knock-on effects would be devastating on a scale that would dwarf what we have seen to date. 
The shutdown of the construction industry would jeopardise not just those employed directly, but the whole livelihoods of millions of Australians employed in precarious sectors like manufacturing. It would devastate nationally important industries in the building supply chain, like the $30 billion steel industry.
Forcing the industry's closure would also blunt the impact of federal, state and territory government stimulus packages as infrastructure projects would immediately grind to a halt. Civil construction, in particular, must continue to build the nation and can do so safely given the nature of its sites. 
Indeed, the catastrophic threat of a construction shutdown means the whole construction industry has a civic duty to impress upon authorities it can operate while ensuring compliance with social distancing and hygiene requirements.
That means everyone in the industry has to step up and be accountable. Construction companies and project managers must ensure that protocols at their site are enforced. Construction workers owe it to each other and their families to be responsible and do the right thing. This is only the only way the industry can continue working while reducing the risk of COVID-19 transmission. 
In times of crisis people look to unions, industry, and government to work together. We have to show we can not only slow the spread of COIVID-19 but ensure there's an economy left when the crisis is over. 
Scott Morrison Media Release 27/3/20
Prime Minister, Scott Morrison announced a plan to "hibernate Australian business" during the coronavirus crisis. He also said every Australian returning home from overseas will now be quarantined to hotels or other facilities in a bid to slow the spread of the virus.
25/3/20 Prime Minister Morrison announced further restrictions
25/3/20
Last night Prime Minister Morrison announced further restrictions which will apply throughout the community from midnight tonight (25 March 2020).
Whilst the Building and Construction Industry remains largely unaffected by the Prime Minister's latest announcement, particular note should be made to the following:
Auction Houses - closed from midnight 25 March 2020.  Real Estate auctions and open house inspections – by private appointment only
Whilst no specific mention was made of display homes, it would be appropriate to open them by appointment only.
To read the full list of restrictions click here
NSW government passes flexible long service leave changes
25/3/20
Yesterday, the NSW Parliament passed changes to the long service leave law which will create greater flexibility for employers and employees to access leave during the on-going COVID-19 crisis.
The amendments to the Long Service Leave Act 1955 will allow employees to take leave in shorter blocks, such as one day a week, and without the traditional one-month notice period, by agreement with their employer.
NSW Treasurer Dominic Perrottet, who introduced the changes into the NSW Parliament, said the flexibility was very important during a time when businesses are looking at every option to keep staff on their books.
"These changes will provide another way for businesses to help maintain their workforce during what will be an extended period of disruption," Mr Perrottet said.
"We expect this to be an option which will help people get through the next few months and effectively put money in their weekly budgets." 
The legislation took effect for six months from yesterday with the possibility of an extension to one year.
Letter from NSW Treasurer, Dominic Perrottet, to the construction industry
Below is a letter from the NSW Treasurer, Dominic Perrottet, to the construction industry. It sets out the NSW Government's determination to continue to deliver the NSW infrastructure pipeline during this COVID-19 event. Infrastructure NSW and Government agencies charged with delivering the infrastructure program have been in discussions about how to best work cooperatively with the industry to maintain cash flow, employment and delivery on our projects. Read letter here. 
No Shutdown of the Building and Construction Industry 22/3/20
New COVID-19 restrictions begin but construction sites exempt 23/3/20
23/3/20
Media Release from Gladys Berejiklian - 
In line with health advice, from midday today, the following non-essential activities and businesses will be temporarily shut down:
Pubs, registered clubs
Gyms, indoor sporting venues
Cinemas, entertainment venues, casinos, and night clubs
Restaurants and cafes will be restricted to takeaway and/or home delivery
Religious gatherings, places of worship (excluding small weddings and funerals that comply with the 4m2 rule, which can proceed).
It is important to note essential gatherings at places such as hospitals, workplaces, constructions sites and for public transport are exempt and will continue.
Read full press release here.
NSW stimulus package to help mitigate coronavirus impact
Premier Gladys Berejiklian said the stimulus package is designed to keep people in jobs throughout the corona crisis and to boost a range of medical services throughout the State.  
As part of the recently announced measures, $450 million has been allocated to waive payroll tax for businesses with payrolls of up to $10 million for three months.
Master Builders understands that this will become effective from May 2020, which means these businesses will not have to pay payroll tax for the rest of the financial year.
The next round of payroll tax cuts has also been brought forward.  This means that for the next financial year 2020-2021, the threshold limit for a business in NSW to have to pay payroll tax will be $1 million. 
Other parts of the stimulus package include:
$80 million for fees and charges to be waived for small businesses such as cafes, restaurants and those in trades;
$250 million for public schools and state-owned buildings to employ more cleaners;
NSW Health will receive $700 million to help double the capacity of intensive care units State-wide.
 
PM stating that construction sites are an essential service and will remain open
The Prime Minister in his statement updating the community on Coronavirus measures explicitly stated that construction sites are an essential service and will remain open. 
In reference to non-essential gatherings of greater than 100 people not being permitted from 20 March, the Prime Minister stated that: 
"This does not apply to essential activities such as public transportation facilities, medical and health care facilities, pharmacies, emergency service facilities, correctional facilities, youth justice centres or other places of custody, courts or tribunals, Parliaments, food markets, supermarkets and grocery stores, shopping centres, office buildings, factories, construction sites, and mining sites, where it is necessary for their normal operation (although other social distancing and hygiene practices may be required in these settings)."
The full statement can be found on the Prime Minister's website https://www.pm.gov.au/media/update-coronavirus-measures