Employers and principal contractors must proactively manage the risks associated with high winds on construction sites, to reduce the risk of serious injuries and fatalities.
The risk
Construction sites can have varying levels of risk from strong or gusty winds, depending on the stage of the build, the associated plant and materials on-site and the general environmental conditions of the site.
In recent years, there have been serious incidents involving the collapse of masonry walls and scaffolds reported to SafeWork NSW.

Masonry and other walls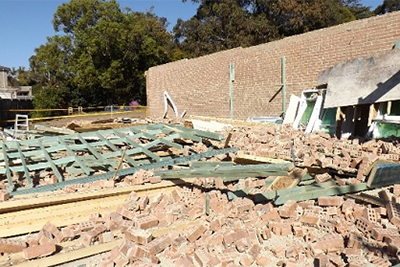 Walls under construction or demolition can be at risk of collapse in high winds due to the lack of lateral support usually provided by permanent wall returns or other sections of the final structure.
Newly built masonry walls have a reduced mortar strength and can have a line of weakness through damp course membranes.

Scaffolds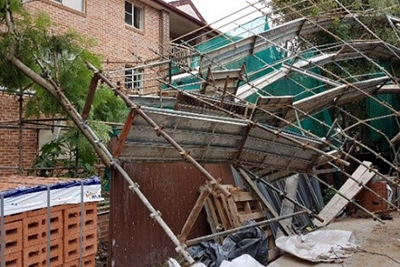 Scaffolds can collapse, fall sideways or have loose items blown off work platforms in high winds and adverse weather.

What you can do to stay safe
Site managers must make adequate preparations to deal with high or strong gusty winds in their workplace.
Ensure all workers and others are warned about the dangers of inclement weather on site
Check weather forecasts and monitor conditions regularly (see links below)
For sudden or short-term weather events cease work until high or gusty winds have subsided
Ensure structures under construction such as brick/block walls, partition walls, prefabricated concrete panels are adequately braced or otherwise supported from collapse due to wind loads
Ensure scaffolds are adequately designed for wind loading and check they are securely tied to the building or structure. Particular attention is needed to ensure planks are lashed securely and if containment sheeting, cladding or signage has been added due to the additional forces on the scaffold. Consult the designer or an engineer if you are unsure
Ensure temporary structures such as screens, formwork/falsework, site fencing or similar are adequately designed for wind loading and check they are securely tied to the building or structure
Ensure any temporary fencing arrangements, especially those with mesh installed, are secured to prevent them from falling over
Secure all loose items, materials and signage to ensure they are not blown off the site
Cease crane operations when the wind speed exceeds the manufacturers specified limit. The manufacturer may specify different limits depending on the activity
Do not use indoor rated elevating work platforms outdoors or in partially completed structures where the lack of walls or roofs leaves them exposed to winds
Do not operate hoisting equipment (personnel or material) in high or gusty winds, refer to manufacturers' guidelines
Ensure dusts are controlled or minimised in high or gusty winds
Ensure that tools are packed away and building materials secured to prevent them from being becoming airborne
Wear eye protection to keep dust, debris and other foreign particles from blowing into the eyes
Where hard hats are a falling object hazard ensure chin straps are worn.

Masonry and other walls special note
Do not seek shelter behind walls of incomplete structures during extreme weather events, even if temporary supports are in place
Sequence construction so that masonry walls are constructed at the same time as cross walls or returns
Provide additional temporary support for lintels or other structural elements that place concentrated loads onto green masonry
Avoid placing lateral loads on walls not yet secured into the structure, eg - do not lean materials against the walls.

COVID-19
When taking action to manage the risks associated with high winds at your worksite, please ensure that you also comply with the Public Health Act 2010 to ensure your actions are COVID compliant.

Further information
For further information contact SafeWork NSW 13 10 50