It has never been easier to earn a Master Builders NSW qualification and build a better future.
COVID 19 changed our lives. It prompted Master Builders NSW's successful transition from face-to-face learning to virtual classrooms. Construction students have embraced the change. Many were sceptical and unsure about self-paced, online learning. The phenomenal 32% increase in enrolments into the MBA NSW Certificate IV in Building and Construction tells us that this is what our members and the industry want! The advantages of learning from home in your own time have hit the mark.
When you study with Master Builders NSW, you study with people like you. People focussed on building their career in building. When you study with Master Builders NSW, you learn from the best in the business.  
TAKE IT FROM MATT
Matthew Hughes is one of our dedicated Certificate IV in Building & Construction online trainers and mentors. He is an industry professional and licensed builder with 25 years experience. Matt understands the importance of gaining professional qualifications to advance your career. He holds multiple qualifications including; Certificate III in Bricklaying, Certificate IV in Building and Construction, and Diploma of Building and Construction, as well as holding the Certificate IV in Training and Assessment. He is a passionate advocate for people in the building trade advancing their careers.
As a trainer and mentor, he offers expertise and encouragement. "I understand that many of our students are very busy people who are running their own small businesses, invoicing, quoting, and have families. Helping students navigate the virtual classroom and keep on track with their course work is important to me." Matthew Hughes, Master Builders Trainer. "The online programs and the student's engagement has exceeded my expectation."  
We understand people have had negative experiences with online learning in the past. We have worked hard to improve the offering. The technology is better. The virtual classroom connects students with their trainer and fellow students. It has all the benefits of an actual classroom in the comfort of your home or office. It provides flexibility and convenience to fit your lifestyle. Our Customer Service Team is on hand to keep you on track to complete the qualification in time. And, just like our students, we continue to learn and improve.
Matt has this advice, "Be disciplined with your studies, ensure that you schedule in the time you need to study and read all of the training material. It is important that you complete your qualification successfully. Without it, you cannot apply for your building licence, it's that simple," says Matt.
As well as training and managing his construction business, Matt is a father to 3 young sons who keep him on his toes. 
Don't just take it from us … The students have their say.
"The support from the teachers has been incredible. The information is there if you stay focussed. I have learnt a lot and look forward to completing the course. It is not a worrying or stressful experience in any way."  Aaron Gray from Macksville. 
"So far, so good, I like being able to fit the study in between my working and family commitments and the portal is very easy to use. I am learning a lot which is a big reason for me doing this course. I would recommend it to a friend." Mark Collins from Port Macquarie.
To find out about our pathways to a building licence go to our website.
The Online learning platform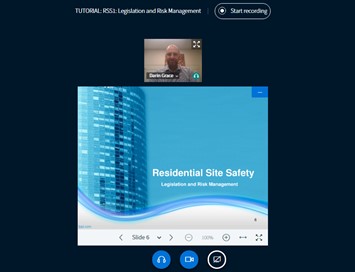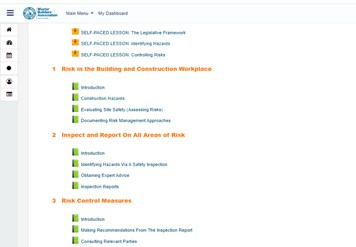 For more information please contact Master Builders Education and Skills Development.
Phone: (02) 8586 3588
Email: education@mbansw.asn.au
Website: mbansw.asn.au/training