Tax offsets, fuel excise reductions and more support for first home buyers. In another big spending budget, small businesses in a range of sectors stand to benefit. The 2022-23 budget has assigned $2.8 billion to support apprenticeships, including $5,000 payments to new apprentices and up to $15,000 in wage subsidies for employers who hire new apprentices.
Here's a Master Builders quick rundown of the main 2022 budgetary measures.
A one-off $420 cost of living tax offset for low and middle earners, in addition to the existing Low and Middle Income Tax Offset (LMITO). This amount will be refunded in tax returns made for the 2021-22 year.
 
A new one-off Cost of Living Payment worth $250 which is exempt from tax will be paid to eligible pensioners, welfare recipients, veterans and concession card holders.
 
For businesses with annual turnover below $50 million, a $120 tax deduction will be provided for every $100 worth of expenditure on selected digital technologies like cloud computing, eInvoicing, cyber security and web design. A maximum deduction of $100,000 per year is permitted. The deduction will remain in place from now until 30 June 2023.
 
Temporary reduction in tax on petrol and diesel of 22.1 cents per litre for six months from midnight on 29th March 2022. This will be monitored by ACCC to ensure it is passed on to retailers.
 
A new Australian Apprenticeships Incentive Scheme will take effect from 1 July 2022 which will provide support to employers and apprentices in priority occupations. Funding of $954 million will be provided over 5 years to support this.
 
Over the four years from 2022-23, $38.6 million will be provided to allow additional support to women who commence trade occupations that are higher paying on the Australian Apprenticeships Priority List.
 
The federal budget provides resources to support an additional 35,000 extra places for apprentices and trainees through extensions to existing programs.
 
Enrolments for the Boosting Apprentice Commencement wage subsidy have been extended up until 30 June 2022. This scheme pays 50 per cent of the eligible apprentice's wages in their first year, up to a maximum of $7,000 per quarter per apprentice.
 
Any business that receives the Boosting Apprenticeship Commencement (BAC) wage subsidy will also then be eligible for extended support through the Completing Apprenticeship Commencements (CAC) wage subsidy for the second and third year of a Boosting Apprenticeship Commencement supported apprenticeship.
 
For a second-year apprentice, 10 per cent of their wages are subsidised up to a maximum of $1,500 per quarter per apprentice.
 
The employers of eligible third year apprentices will receive 5 per cent of that apprentice's wages up to a maximum of $750 per apprentice per quarter.
New and expanded programs to help find employment for disadvantaged youth, Indigenous Australians, the mature aged and Australians with a disability.
 
For small businesses, a $120 tax deduction will be provided for every $100 spent on external training given to their employees between now and the end of June 2024.
 
Expansion of the Paid Parental Leave Scheme: The changes are designed to expand eligibility and provide more flexibility and greater choice.

More families will be able to access 20 weeks of leave and decide how they will share it.
Single parents will now be able to access the full 20 weeks.
Dad and Partner Pay will be rolled into Parental Leave Pay to create a single scheme of up to  20 weeks, fully flexible and shareable for eligible working parents as they see fit.
The Paid Parental Leave can be taken any time within 2 years of the birth or adoption of their child.
The income test will also be broadened to have an additional household income eligibility test.
 

More Money for the Fair Work Commission (FWC): $5.6 million over 4 years for the FWC to establish a dedicated unit to support small businesses, including with unfair dismissal and general protections  disputes.
 
Changes to the National Employment Standards flagged. Notably, the Industrial Relations Minister's media release discussed potential changes to the NES. Namely that: "The Government will consult with key stakeholders on amending the National Employment Standards to:

ensure fairness and equity in redundancy payouts, particularly for women.
extend an unpaid leave entitlement to foster and kinship carers in recognition of the vital contributions these carers make to the Australian community and some of our country's most vulnerable children."

The 2022-23 budget provides for significant expansion of the Home Guarantee Scheme. The Scheme's expansion consists of three elements:
From 1st July 2022 the First Home Guarantee scheme will increase from 10,000 to 35,000 places per year. This scheme allows first home buyers to purchase a new or existing home with a deposit of as little as 5 per cent of the home's purchase price at a mortgage interest rate more consistent with lower LVR loans.
 
A new Regional Home Guarantee scheme with 10,000 places per year will run from 1st October 2022 to 30 June 2025. The scheme will provide support for the purchase or construction of a new home in regional areas. Both first home buyers and non-first home buyers will be eligible.
 
The Family Home Guarantee will increase to 5,000 places per year over the period from 1 July 2022 to 30 June 2025. The Family Home Guarantee allows single parents with children to buy their first home or to re-enter the market with a deposit of as low as 2 per cent.
 
An additional $2 billion in funding to NHFIC to support the delivery of affordable housing.
Additional $17.9 billion in infrastructure commitments over the forward estimates period. This will bring the federal government's rolling 10-year pipeline of infrastructure projects to over $120 billion.
 
Additional $480 million to improve NBN infrastructure in regional, rural and remote areas in order to deliver better internet service for up to 1 million homes.
 
 A $9.9 billion investment over 10 years in Australia's offensive and defensive cyber capabilities.
The federal budget provides for a new set of Commonwealth Procurement Rules which are designed to enhance opportunities for SMEs to participate in major government projects. This will be done by:
requiring officials to consider disaggregating major projects into smaller contract opportunities, where unbundling would allow greater competition and is appropriate to the type of work on offer;
 
reducing the value of insurance costs that suppliers incur, to a reasonable level, and making it clear that, in most circumstances, insurance is not required until a contract is awarded;
 
providing faster cash flows through supply chains, by extending our 'pay on time' policy to all suppliers (we will pay eInvoices within 5 days and other invoices within 20 days or pay interest); and
 
allowing the Department of Defence to build local sovereign capabilities by directly purchasing from SMEs, or using tenders that are limited to SMEs, for procurements worth up to $500,000.
A Budget That Continues To Fuel The Recovery 
"The Budget will provide some relief for builders and tradies hard hit by the increasing cash and cost crunch including measures to help SMEs to manage it, Denita Wawn, CEO of Master Builders Australia said. 
 
"Temporary relief at the fuel bowser is a big win for the building industry. Builders and tradies who spend billions on fuel each year are reporting that they are being slammed by a 25 -30% spike in fuel costs in the March quarter," she said. 
 
"Builders and tradies are going to feel the benefit of the fuel excise cut as they fuel up their utes," Denita Wawn said. 
 
"56% of building and construction SMEs are under extreme pressure due to the spike in fuel costs compared to 41% of SMEs in general according to MYOB Business Monitor," she said. 
 
"The extension of the Government's highly successful apprentice and trainee wage subsidy until 30 June will cut costs and boost confidence in our industry as our members struggle to deal with labour shortages that are causing delays and cash flow pressures," Denita Wawn said. 
 
"The continuation of apprentice and wage subsides albeit at a lower rate from 1July is also a positive move," she said. 
 
"Our industry has the most SMEs than any other sector in the economy and one of the lowest rates of digital take up, so it's great to see the Government announcing new tax deductions to support thousands of mum and dad businesses to take up more digital business management solutions, which in the current environment are more critical than ever," Denita Wawn said. 
 
"It's good to see measures being announced that will help complete economic recovery and assist building and construction businesses to move forward from the COVID imposed challenges of the past two years," she said. 
 
"Home ownership, particularly building new homes is a major engine of a strong economy and the major expansion of the Home Guarantee Scheme and the new Regional Home Guarantee are going to build on the success of the Government's measures that saves hundreds of thousands of jobs from being lost and builder and tradie businesses from going under in our industry during COVID," Denita Wawn said. 
 
"Importantly, the Budget includes a new $2 billion funding increase for social and affordable housing through the National Housing Investment and Finance Corporation," she said. 
"The additional $17 billion in infrastructure investment over the forward estimates to boost the 10 year pipeline of projects to $120 billion is good news for civil construction sector and will support stronger economic growth," Denita Wawn said. 
 
"Just as importantly, the Government's new procurement rules will give smaller construction contractors and subcontractors a realistic opportunity to tender for work on these projects," she said. 
 
"Overall, it's good to see the Government is responding to the plight of many in our industry who are being squeezed by steep cost increases and delays which are impacting their cash flow caused by a perfect storm of international and domestic factors which has driven a surge in demand for building activity," Denita Wawn said. 
 
"We look forward to more initiatives which Master Builders has called for to fuel the economic recovery being announced in the upcoming Federal Election campaign," Denita Wawn said. 
Download Master Builders NSW Budget Snapshot (PDF)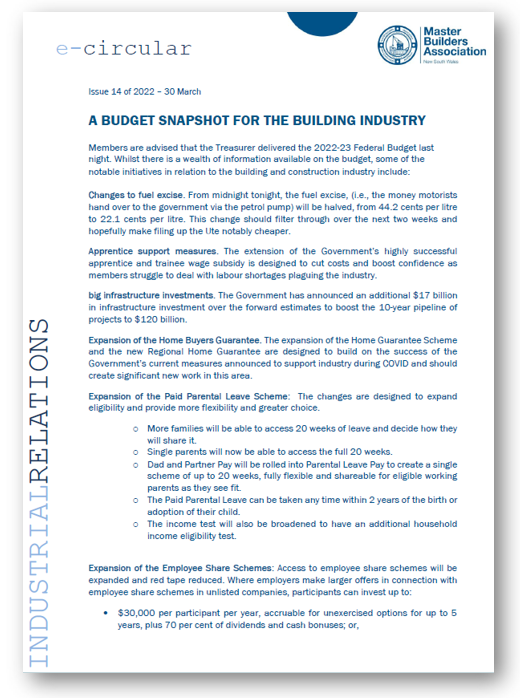 Download full Master Builders Australia Summary (PDF)