The Master Builders Association of NSW Excellence in Pool Awards stands as a prestigious celebration of remarkable accomplishments in the realm of pool construction, innovation, and uncompromising quality. This distinguished event serves as a beacon, illuminating the heights of excellence achieved within the pool construction industry. It is a platform that reverberates with the echoes of success, embracing various facets of pool craftsmanship such as, renovations, concrete pools, fibreglass pools, display pools and commercial pools & spas.
---
2024 AWARDS - ENTRIES NOW OPEN
For more information, please download our 2024 Entry Guidelines:
Image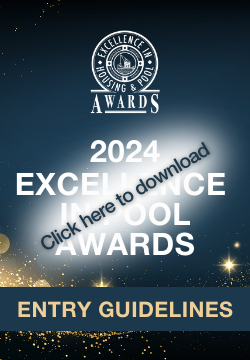 ---
EVENT DETAILS
DATE: Saturday 28 September 2024
TIME: 6:00PM
VENUE: The Star, Sydney 
---
CONTACT INFORMATION
T: (02) 8586 3504
Entry Guidelines
Please download our Entry Guidelines for more information.
Award Force How To Guide
Entry Fees
Member fees
■ $550 (inc GST)
Non - Member fees
■ $770 (inc GST)
Media Coverage
Both entrants and winners of the MBA Excellence in Pool Awards receive extensive media coverage as part of their participation in these prestigious industry awards. All entrants are featured in the MBA's Excellence in Housing Awards Annual, published in conjunction with Universal Magazines and distributed, via sales in newsagent outlets, to the wider consumer market. Winners of the Awards are featured in the special Excellence in Housing Awards issue of the Master Builder magazine, which is disseminated to all MBA members across NSW and on the MBA website. Editorial comment on and photographic display of the projects entered will be at the discretion of the appropriate media and the Master Builders Association of NSW. Whilst it is the aim of the Association to feature the work of entrants accurately, there will be no responsibility taken for discrepancy, error, omission or misrepresentation of that entry in any media report.
If you would like to advertise in the MBA's Excellence in Housing Annual, more information is available on the attachment below: