Excellence in Housing Awards
The Master Builders Association of NSW Excellence in Housing is the state's most prestigious residential building awards. It celebrates excellence in construction, innovation and quality in the building and construction industry in NSW. The Housing Awards showcases the very best in residential construction and attracts a broad cross section of the residential building sector, including project home builders, contract builders, apartment constructors and contractors specialising in additions, alterations and renovations.
---
2022 Awards - OPENING SOON
The 2021 Awards are now finished and we are working towards opening the 2022 Awards,
If you would like to register your interest for the 2022 Awards, please contact our Awards & Events Team. 
Entries open for the 2022 Awards in December 2021.
---
Event Details
DATE: TBC
TIME: 6:30 PM 
VENUE: The Star Casino
---
Contact Information
T: (02) 8586 3504
---

2021 Housing Award Categories
Adaptive Re-use
Affordable Housing
Contract Houses
Design & Construct - House
Display Homes
Excellence in Energy Efficiency
Excellence in Environmental Management
Granny Flats
Home Unit Renovation (External)
Home Unit Renovation (Internal)
Home Units
House Additions / Alterations / Renovations 
Restoration / Addition
Roof & Attic Conversions 
Special Purpose Housing
Town Houses or Villas / Dual Occupancy 
Entry Requirements
Please be aware that the emphasis will be based on the on-site inspection by a team of judges.
In addition, the following information must accompany each entry.
■ Open to all licensed builders, Master Builders Association of NSW (MBA NSW) members and non-members, for projects constructed within NSW. Projects completed using an Owner-Builder Permit are ineligible to enter.
■ Completed Entry Form for each project, including signed authority and entry fee. 
■ Copy of HBCF certificate (formerly Home Owners Warranty) - where applicable.
■ Description of entry that can be used in all editorials.
■ Company Profile that can be used in all editorials.
■ A4 floor plans. Additions/Alterations/Renovations should also include simplified 'before' floor plans.
■ A selection of 15 high resolution internal and external digital images (please refer to photography requirements for further details)
■ 'Before photos', please provide a minimum of 2 images prior to work being carried out. This only applies to a few categories. Please refer to award categories list.
■ List of manufactures and/or suppliers of entered project.
■ Sales Brochure for display home entries only.
■ Energy and Environmental categories - Please include a project overview describing how your entry fulfilled the energy efficiency and/or environmental management outcomes.
Judging Criteria
All entrants must show excellence in the following criteria:
Quality of Construction
Design Challenges
Use of Materials
Value for Money
Innovation
A judging panel will inspect all projects entered. Entrants will be requested to ensure the appropriate  personnel are on hand during the inspection to ensure that any questions posed by the judging panel are answered. Entrants will receive at least one week's notice of the inspection time and date.
Should there be a period of time during judging that is not suitable for inspection to take place (i.e. no access to home due to client on holidays), please advise the Association no later than 26 March 2021 via the judging restrictions section on the online entry form. 
Entry Fees
MBA of NSW Member
$550 (inc GST)
Non MBA of NSW Member
$770 (inc GST)
PHOTOGRAPHY REQUIREMENTS
PHOTOGRAPHIC REQUIREMENTS
Digital images MUST be submitted with entries. Images provided will be used in the audio-visual presentation and print media; good quality images will better profile your entry. Entrants are responsible for the quality of all images.
■ Resolution of 300 dpi (highest quality camera setting)
■ Image size no smaller than A4 (21cm x 29.7cm)
■ Format: JPEG or TIFF (please no PDF or PPT file types)
■ Only one project per USB or via a link

Please note if your digital images are not high quality you could be asked to resubmit them.
There are some distinct advantages of commissioning a professional photographer to take photographs of your entry. 
Your project will be presented in the best light possible and you will have control over the images taken. 
Professional photographs are of the highest standard and can highlight special features of your project.
You can use the professional photographs in your own publicity material such as your brochures, flyers and your website.
You can choose to use your own photographer or we can organise photography for you. 

PROFESSIONAL PHOTOGRAPHY FEE
$682 per entry (inc GST)
Additional costs will apply for entries outside the Sydney metropolitan area. Please contact the MBA for further details.
Media Coverage
Both entrants and winners of the MBA Excellence in Housing Awards receive extensive media coverage as part of their participation in these prestigious industry awards. All entrants are featured in the MBA's Excellence in Housing Annual published in conjunction with Universal Media Co and distributed, via sales in newsagent outlets, to the wider consumer market.
If you would like to advertise in the MBA's Excellence in Housing Annual, more information is available on the attachment below:
Award Judges
Ross Finnie

Ross' career within the construction industry has spanned over four decades. Origins in managing numerous projects of varying architectural type, size and complexity to now specialising in WH&S, encompassing environmental and quality issues, has ensured his plenary comprehension of this sphere. He's a member of numerous organization's beginning with MBA NSW where he is a Gold member and former divisional president of Northern Suburbs Division, representative of the Council of Management, Legal and Contracts and WorkCover NSW Construction Industry Working Party and Standards Australia Construction Advisory Group. A member also of Resolution Institute Aust, NSCA and former secretary of ARCA. Ross established his own company TREW Enterprises in 1995 specialising in project management, restoration and heritage building work to now focusing specifically in areas of WH&S compliance and training, expert witness and reporting and(HSEQ).    

Terry Gale

Terry has over forty years' experience in the construction industry in both luxury residential and commercial sectors. In 1999 Terry merged two successful and long established building companies Pimas Group and Gale Building to form the NSW building firm Pimas Gale Construction. Since Pimas Gale's inception and under Terry's leadership Pimas Gale built up an enviable reputation for the construction of custom built architecturally designed homes and luxury apartments constantly delivering projects to the highest standards resulting in numerous industry awards and putting Pimas Gale at the forefront of the Sydney luxury construction market. As a working Director, Terry's managerial role was to oversee all of Pimas Gale's Construction Systems, auditing and monitoring of quality assurance, WH&S, programming, planning and costing, direct dealings with clients, clients representatives and architects to ensure the delivery of all projects to the clients' high expectations within time and budgetary constraints. Terry was also selected from builders across NSW to serve on the Builders Review Board for Vero Insurance. 

Paul Girdler

Paul Girdler is a licensed builder with 50 years of experience in the industry and a long-term member of industry associations. Initially working as a contractor, he obtained his Building Certificate in 1988, established his own business and continues undertaking projects across inner Sydney, specialising in residential renovations, extensions and restorations. During his career he has been a part-time teacher designing and teaching Basic Home Maintenance for Petersham TAFE and teaching in the School of Building at Sydney TAFE. 

Max Mosher

Max Mosher is an energy consultant and has worked in the energy industry for more than 40 years. He has a wealth of knowledge and experience in relation to solar and energy-efficient house design, including energy utilisation in the domestic sector and thermal performance assessments. Max has been a committee member on a Standards Australia Review Committee BD/058 titled "Materials for the Thermal Insulation of Buildings". He has been on the judging panels for the Building Designers Association Annual Design Awards, the Master Builders Association Excellence in Housing and Construction Awards, the Master Builders Australia National Excellence in Building and Construction Awards, and the Local Government Association Environment Awards. Max is a founding member and former director of the Association of Building Sustainability Assessors(ABSA). 

 

Michael O'Donnell

Michael O'Donnell is a licensed builder, accredited Building Consultant and has been accredited as a Livable Housing Australia Design Guidelines Assessor. He is currently vice president of MBA NSW and chairman of the MBA NSW Housing Committee. He is the NSW representative on MBA Australia's Residential Builders Council and is one of four industry representatives on the NSW government's Home Building Compensation Fund Underwriting Committee. Michael joined NSW homebuilder Huxley Homes in 1976 and in 1979 took over Huxley Homes' new Regional Building Division. Michael left Huxley Homes in 1995 and established his own business, MKO Constructions, which specialises in the design and construction of residential extensions, renovations and first-floor additions. Michael has his Diploma in Building and Construction and Diploma in Workplace Training and Assessment. 

Stephen Rayner

Stephen Rayner has been a member of the Master Builders Association for 41 years. He is a past president of the MBA Northern Suburbs Division and has been treasurer since 2008. Stephen holds a Carpenter and Joiner Trade Certificate along with a Clerk of Works Certificate. He is the director of Stream Constructions Pty Ltd, which specialises in architect-designed projects, domestic and commercial renovations. During his building career, Stephen was a part-time teacher at Hornsby TAFE, teaching the building component of the Real Estate Certificate. He received the MBA Divisional Gold Member Award in 2012. 

Leo Stanton

Leo Stanton is a licensed builder & an accredited building consultant with a membership with the Master Builders Association over 20 years. Leo is currently the president of the MBA Parramatta Cumberland division and sits on the Council of Management of the MBA. As an accredited building consultant, Leo has delivered the pre-purchase building & consultancy course at the MBA since 2007 and is a current member on the building consultancy committee, providing product and services for the members of the association and the industry at large. Further to this, Leo is acting as an expert witness in the National Civil and Administrative Tribunal (NCAT) courts of Australia. He is the director of Stanton Homes Pty Ltd, which is a construction company involved in property subdivisions and residential development projects; and runs his own consultancy business, Stanton Building & Consultancy Services. Leo has his Assoc. Diploma in Building and Construction, Building Surveying Qualifying Certificate and holds his current TAE ticket in Workplace Assessment & Training.

Andrew Tomkins

As a third generation builder I have been Managing Director of A.A.Tomkins & Sons for the last 25 years, the business being founded in the early 1920's by my grandfather. I completed my Surveying certificate in 1978. I hold a carpentry and joinery trade certificate and completed my Building certificate in 1984, holding a builder's license since 1985. The business has been an MBA member since 1983. We have participated and won MBA awards and our MBA apprentice won apprentice of the year in 1998. I have practised as an artist all my life. As a Wynne prize finalist, I have won several awards, exhibited widely throughout Australia and Internationally, recently at the National Art Museum of China in the Beijing Biennale.

John Worthington

John Worthington has been a member of the Master Builders Association of NSW since 1976. He graduated from Sydney Technical College in 1971 and holds a building certificate and building diploma. He also received a Timber Pest Certificate from TAFE in 1989, Master of Dispute Resolution from the University of Technology in 1998, Professional Certificate in Arbitration and Mediation from the University of Adelaide in 1999, Accredited Certifier Program (BSAP) from the University of Technology Sydney in 2004, and was nationally accredited by the Institute of Arbitrators and Mediators 2008. He was chairman of the Building Consultants Council from 2009 for nine years and a member of the Council of Management of the MBA for eight years. John is currently engaged as a mediator, builder, building consultant acting as an expert witness in the Consumer Trader & Tenancy Tribunal and the court system in Australia. John was also "the builder" on the ABC television program "The Home Show" for 4 years from 1990.
Our elite panel of judges are chosen by Master Builders Association of NSW to review and score every entry that is submitted. Our judging panel are chosen due of their professional and wide-ranging level of expertise. If you would like to submit a nomination to become a judge for the Excellence in State Awards programme, please contact events@mbansw.asn.au.
Supporting Industry Sponsors
Thank you to our sponsors for 2020.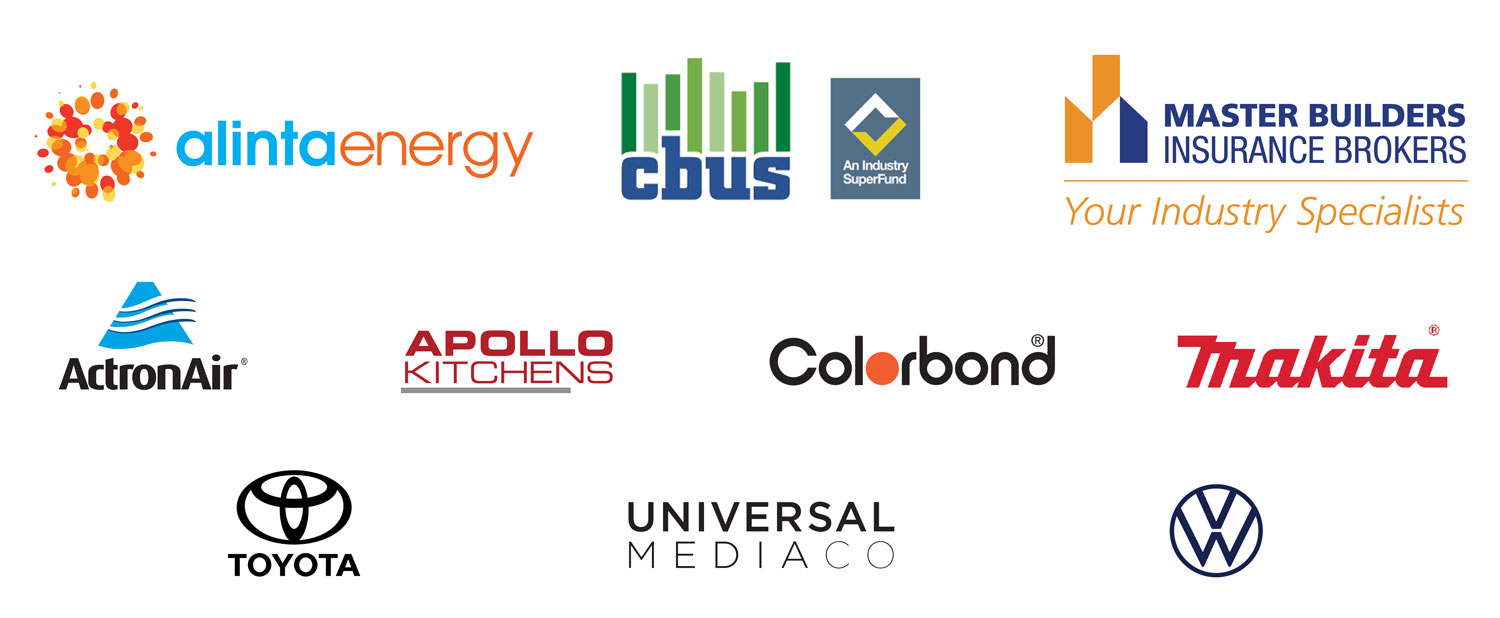 Major sponsors for 2020 were: Alinta Energy, Cbus Super, Master Builders Insurance Brokers
And supporting sponsors were: Actron Air, Apollo Kitchens, BlueScope Steel, Makita, Toyota, Universal Media Co, and Volkswagen 
Previous Years Highlights Videos