2019 HOUSING AWARDS ARE NOW CLOSED
The Housing Awards showcases the very best in residential construction and attracts project home builders, contract builders, apartment constructors and builders specialising in additions, alterations and renovations.
2018 saw a record number of projects entered with the judges astounded by the quality of construction, the many building obstacles successfully overcome during the building process, as well as maintaining excellent relationships with clients, sub-contractors and design team. Check out all the 2018 winners. 
This year's awards take place on Saturday 7th September 2019 at The Star Event Centre. For more details and to purchase tickets, go to the 2019 Winners Presentation Night page.
Entry Requirements
THESE AWARDS ARE NOW CLOSED 
ONSITE JUDGING WILL TAKE PLACE BETWEEN 15 APRIL - 5 JULY 2019
Please note: Builder must be in attendance at the site for the inspection on the day of judging.
EACH SUBMISSION MUST CONTAIN THE FOLLOWING:
Fully completed entry form including floor plans (A4 size)
Please do not bind your submission
A selection of 15 professional quality internal and external digital
images.
Digital images must meet the following specifications:
Minimum resolution of 300 dpi (highest quality camera setting)
Image size no smaller than A4 (21cm x 29.7cm)
Format: JPEG or TIFF (please no PDF or PPT file types)
Only one project per CD / USB or via a link
Entrants are responsible for the quality of all images. These images are used in the audiovisual presentation and media so good quality material will better profile your entry. If providing 'before' shots, please ensure these are clearly identified as 'before' shots.
Judging Criteria
All entrants must show excellence in the following criteria:
Quality of Construction
Design Challenges
Use of Materials
Value for Money
Innovation
A judging panel will inspect all projects entered. Entrants will be requested to ensure the appropriate  personnel are on hand during the inspection to ensure that any questions posed by the judging panel are answered. Entrants will receive at least one week's notice of the inspection time and date.
Should there be a period of time during judging that is not suitable for inspection to take place (i.e. no access to home due to client on holidays), please advise the Association no later than 22 March 2019 to lessen the impact on scheduling on-site inspections.
2019 Entry Fees
MBA of NSW Member
$550 for first entry (inc GST)
$473 for each additional entry (inc GST)
Non MBA of NSW Member
$770 for first entry (inc GST)
$693 for each additional entry (inc GST)
ENERGY AND ENVIRONMENTAL AWARDS
$110 for first entry (in any division) inc GST
$88 for each additional entry (in any division) inc GST
Why use a professional photographer?
There are some distinct advantages of commissioning a professional photographer to take photographs of your entry. 
Your project will be presented in the best light possible and you will have control over the images taken. 
Professional photographs are of the highest standard and can highlight special features of your project.
You can use the professional photographs in your own publicity material such as your brochures, flyers and your website.
You can choose to use your own photographer or we can organise photography for you. 

PROFESSIONAL PHOTOGRAPHY FEE
$680 per entry (inc GST)
Additional costs will apply for entries outside the Sydney metropolitan area. Please contact the MBA for further details.
Media Coverage
Both entrants and winners of the MBA Excellence in Housing Awards receive extensive media coverage as part of their participation in these prestigious industry awards. All entrants are featured in the MBA's Excellence in Housing Annual published in conjunction with Universal Magazines and distributed,  via sales in newsagent outlets, to the wider consumer market.
Winners of the Awards are featured in the special Excellence in Housing Awards issue of the Master Builder magazine, which is disseminated to all MBA members across NSW, on the MBA website, and listed in media releases distributed to all media by the MBA. Winners may also be featured in the Sydney Morning Herald Domain supplement, published by Fairfax Media in conjunction with the MBA.
Supporting Industry Sponsors
Thank you to our sponsors for 2019.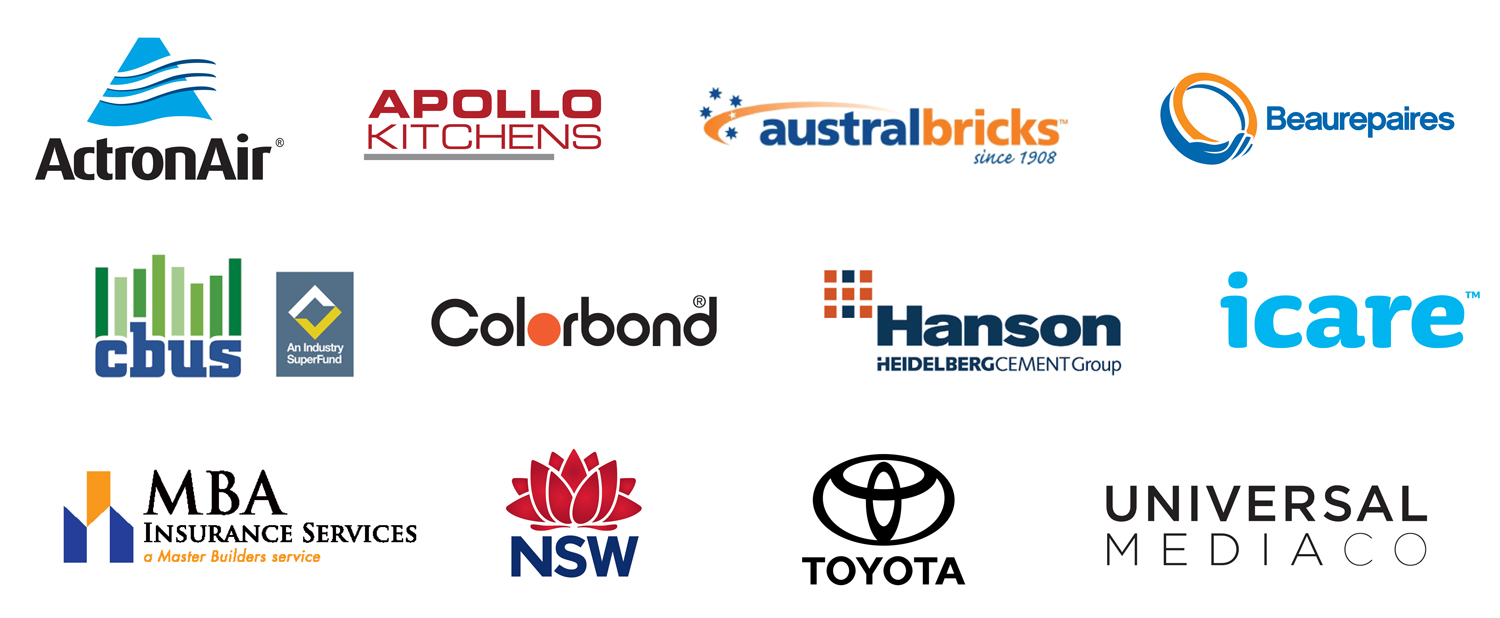 Previous Years Highlights Videos