Excellence in Housing Awards
The Master Builders Association of NSW Excellence in Housing is the state's most prestigious residential building awards. It celebrates excellence in construction, innovation and quality in the building and construction industry in NSW. The Housing Awards showcases the very best in residential construction and attracts a broad cross section of the residential building sector, including project home builders, contract builders, apartment constructors and contractors specialising in additions, alterations and renovations.
---
2021 Awards - Submit Your Entry
Entries for the 2021 Awards are now open!

To access our User Guide to assist with submitting your online entry, please click here.
Entries close Friday 26 March 2021.
---
Event Details
DATE: Saturday 4 September 2021
TIME: 6:30 PM 
VENUE: The Star Casino
---
Contact Information
T: (02) 8586 3504
---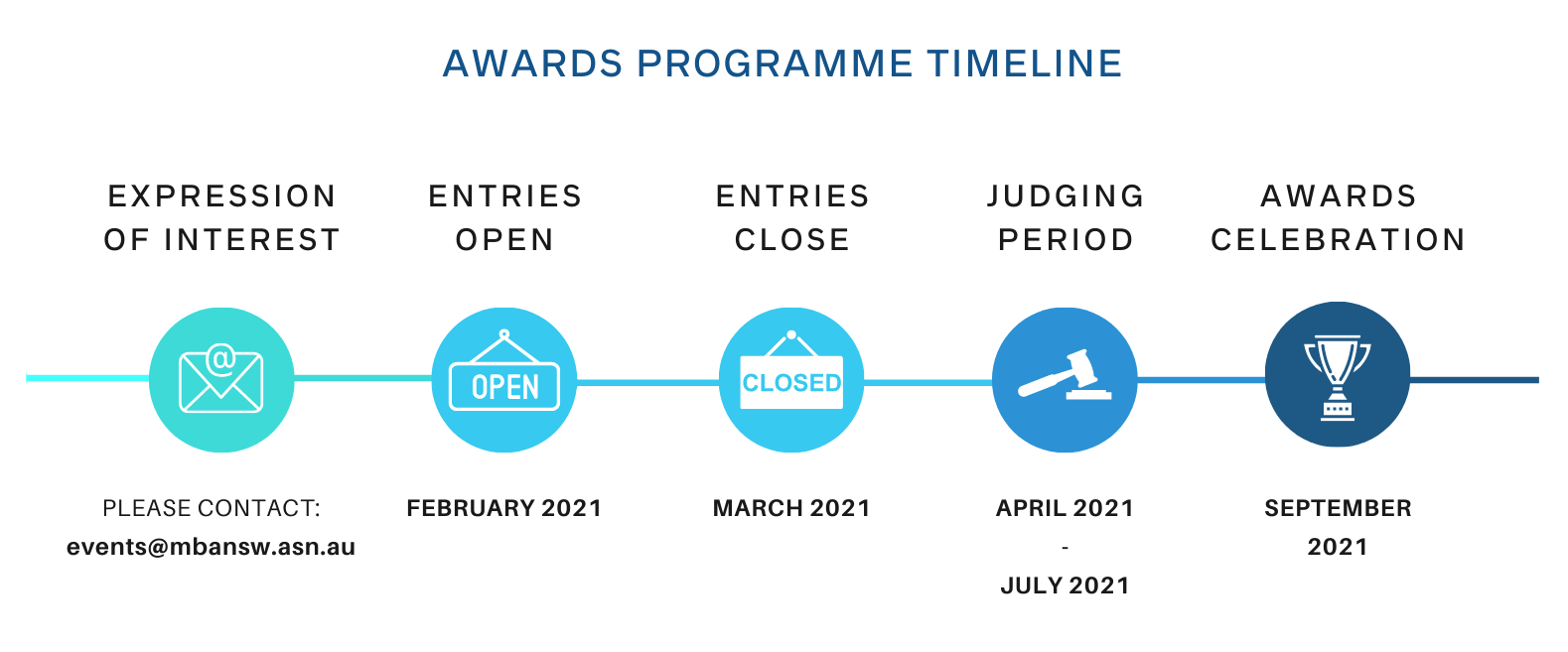 2021 Housing Award Categories
Adaptive Re-use
Affordable Housing
Contract Houses
Design & Construct - House
Display Homes
Excellence in Energy Efficiency
Excellence in Environmental Management
Granny Flats
Home Unit Renovation (External)
Home Unit Renovation (Internal)
Home Units
House Additions / Alterations / Renovations 
Restoration / Addition
Roof & Attic Conversions 
Special Purpose Housing
Town Houses or Villas / Dual Occupancy 
Entry Requirements
Please be aware that the emphasis will be based on the on-site inspection by a team of judges.
In addition, the following information must accompany each entry.

■ Completed Entry Form for each project, including signed authority and entry fee.
■ Copy of HBCF certificate (formerly Home Owners Warranty) - where applicable.
■ Description of entry that can be used in all editorials.
■ Company Profile that can be used in all editorials.
■ A4 floor plans. Additions/Alterations/Renovations should also include simplified 'before' floor plans.
■ A selection of 15 high resolution internal and external digital images (please refer to photography requirements for further details)
■ 'Before photos', please provide a minimum of 2 images prior to work being carried out. This only applies to a few categories. Please refer to award categories list.
■ List of manufactures and/or suppliers of entered project.
■ Sales Brochure for display home entries only.
■ Energy and Environmental categories - Please include a project overview describing how your entry fulfilled the energy efficiency and/or environmental management outcomes.
Judging Criteria
All entrants must show excellence in the following criteria:
Quality of Construction
Design Challenges
Use of Materials
Value for Money
Innovation
A judging panel will inspect all projects entered. Entrants will be requested to ensure the appropriate  personnel are on hand during the inspection to ensure that any questions posed by the judging panel are answered. Entrants will receive at least one week's notice of the inspection time and date.
Should there be a period of time during judging that is not suitable for inspection to take place (i.e. no access to home due to client on holidays), please advise the Association no later than 26 March 2021 via the judging restrictions section on the online entry form. 
Entry Fees
MBA of NSW Member
$550 (inc GST)
Non MBA of NSW Member
$770 (inc GST)
PHOTOGRAPHY REQUIREMENTS
PHOTOGRAPHIC REQUIREMENTS
Digital images MUST be submitted with entries. Images provided will be used in the audio-visual presentation and print media; good quality images will better profile your entry. Entrants are responsible for the quality of all images.
■ Resolution of 300 dpi (highest quality camera setting)
■ Image size no smaller than A4 (21cm x 29.7cm)
■ Format: JPEG or TIFF (please no PDF or PPT file types)
■ Only one project per USB or via a link

Please note if your digital images are not high quality you could be asked to resubmit them.
There are some distinct advantages of commissioning a professional photographer to take photographs of your entry. 
Your project will be presented in the best light possible and you will have control over the images taken. 
Professional photographs are of the highest standard and can highlight special features of your project.
You can use the professional photographs in your own publicity material such as your brochures, flyers and your website.
You can choose to use your own photographer or we can organise photography for you. 

PROFESSIONAL PHOTOGRAPHY FEE
$682 per entry (inc GST)
Additional costs will apply for entries outside the Sydney metropolitan area. Please contact the MBA for further details.
Media Coverage
Both entrants and winners of the MBA Excellence in Housing Awards receive extensive media coverage as part of their participation in these prestigious industry awards. All entrants are featured in the MBA's Excellence in Housing Annual published in conjunction with Universal Magazines and distributed,  via sales in newsagent outlets, to the wider consumer market.
Winners of the Awards are featured in the special Excellence in Housing Awards issue of the Master Builder magazine, which is disseminated to all MBA members across NSW, on the MBA website, and listed in media releases distributed to all media by the MBA. Winners may also be featured on a range of different media engagements including a NewsCorp digital media campaign.
Supporting Industry Sponsors
Thank you to our sponsors for 2020.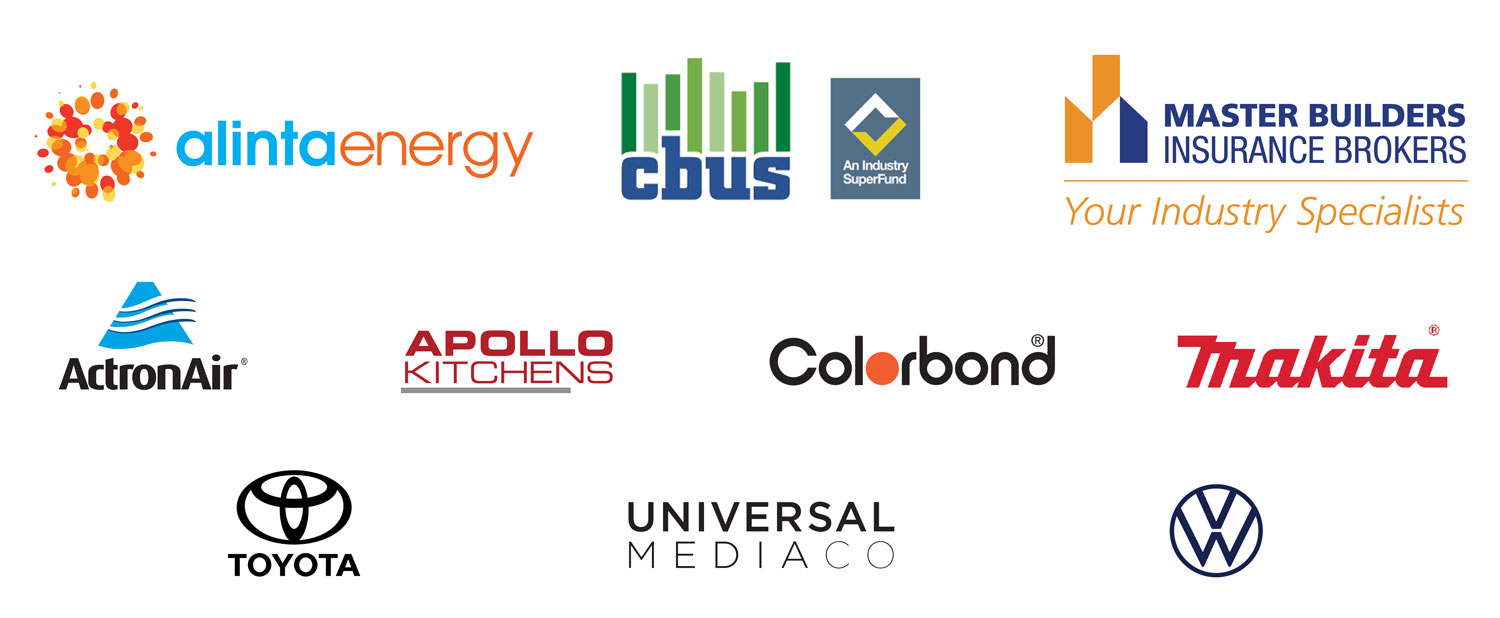 Major sponsors for 2020 were: Alinta Energy, Cbus Super, Master Builders Insurance Brokers
And supporting sponsors were: Actron Air, Apollo Kitchens, BlueScope Steel, Makita, Toyota, Universal Media Co, and Volkswagen 
Previous Years Highlights Videos