The Master Builders Association of NSW Excellence in Construction Awards is recognised throughout the industry as the hallmark annual event for the commercial, industrial and civil engineering sectors. The Awards celebrate outstanding achievements by companies and individuals in the NSW building and construction industry. 
For nearly three decades hundreds of NSW's best commercial builders have won recognition for their construction excellence.
Please call Amanda Kelly on (02) 8586 3504 if you require any assistance in relation to the Awards or email: events@mbansw.asn.au
2020 entries are now open. Download the entry form here.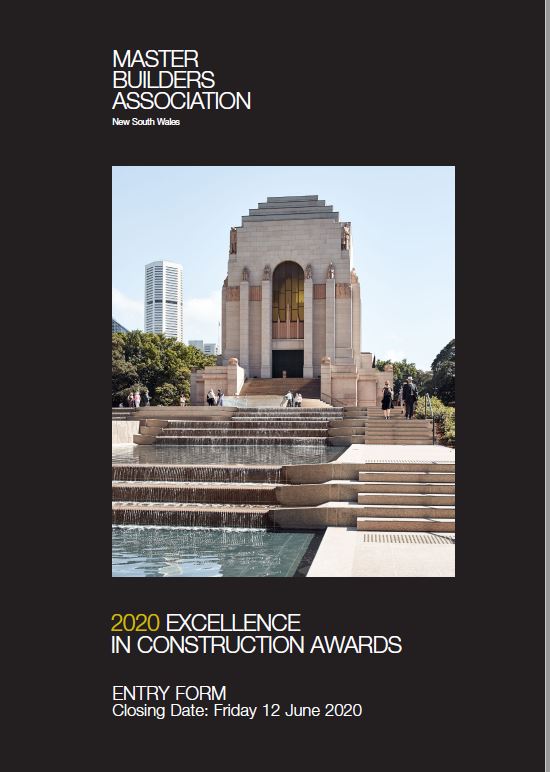 Gala Dinner Presentation Evening
2020 Gala Dinner Presentation Evening
Date: Saturday 7 November 2020 
Time: 6.30 Till late
Venue: The Star Event Centre, Pyrmont 
The gala award black tie evening typically attracts over 900 industry participants, not only recognising the very best in commercial construction but also allows the opportunity for informal networking with industry colleagues including sub-contractors, material suppliers and consultants. Categories, divided by price divisions, cover the entire commercial contracting spectrum, ranging from restoration of historic buildings to commercial, industrial, educational, retail, sporting facilities as well as interior and shop fitouts.
The Excellence in Construction Awards are featured prominently in high quality publications following the award evening, with The Sydney Morning Herald publishing a special feature on the awards and the Master Builder magazine dedicating an issue to the award winners. Winners of the Excellence in Construction Awards may be submitted for consideration in the MBA National Awards Competition.
View all the 2018 Gala night photos on flickr
ENTRY REQUIREMENTS
Please note: The judges are construction industry representatives and for these awards they do not require your company marketing material nor do they require information on past or other current projects.
The following information must accompany each entry:
■ Final Occupation Certificate from the Private Certifying Authority (PCA) or the Local Council (including list of certificates in "Attachments" on Occupation Certificate);
■ Certificate of Compliance with Building Code of Australia (BCA);
■ Final Inspection Report from Fire Safety Engineering Consultant (where appointed);
■ Site plan showing site establishment and materials handling methodology;
■ Project description;
■ Brief construction methodology;
■ Construction/Design difficulties encountered and how these difficulties were solved;
■ Project consultants:
i) - Engaged by the client
ii) - Engaged by the Building Contractor
■ A list of your major suppliers/manufacturers of the entered project;
■ Any innovations developed during the project;
■ Average and peak on-site manpower;
■ Simplified floor/elevation plans and progress photographs during construction;
■ Short statement explaining why you believe this project is worthy of an award (80 words max);
■ A record of:
i) - Any notifiable incident(s)
ii) - LTI's (Lost Time Injury) for the entered project;
■ 4 copies of your total submission (this includes 4 copies of the entry form);
■ Photos required (please refer to photographic requirements on page 6)
PHOTOGRAPHY
PHOTOGRAPHIC REQUIREMENTS
Digital images MUST be submitted with entries. Images provided will be used in the audio-visual presentation and print media; good quality images will better profile your entry. Entrants are responsible for the quality of all images.
■ Resolution of 300 dpi (highest quality camera setting)
■ Image size no smaller than A4 (21cm x 29.7cm)
■ Format: JPEG or TIFF (please no PDF or PPT file types)
■ Only one project per USB or via a link

Please note if your digital images are not high quality you could be asked to resubmit them.

PROFESSIONAL PHOTOGRAPHY ASSISTANCE
A professional photography service is available at the of cost $680 (inc GST) per entry located in the Sydney metropolitan. Additional costs will apply for entries outside the Sydney metropolitan area. Please contact the MBA for further details. MBA will arrange this service with the photographer on your behalf. The photographer will contact you to lock in a date and time to photograph your project.
ENTRY FEES
MBA of NSW Member 
$990 inc GST (per project)
Non MBA of NSW Member
$1,990 inc GST (per project)
JUDGING REQUIREMENTS
ON-SITE JUDGING WILL TAKE PLACE BETWEEN 30 JUNE - 31 AUGUST 2020
The judging panels will inspect all projects entered. Please note the contact person on-site must be the project/site manager responsible for the project. Entrants will receive at least one week's notice of the inspection time and date.

Should there be a period of time during judging that is not suitable for inspection to take place, please advise the Association no later than 12 June 2020, to lessen the impact on scheduling on-site inspections.

Once inspection date has been allocated/confirmed, date changes cannot be guaranteed.
SUPPORTING INDUSTRY SPONSORS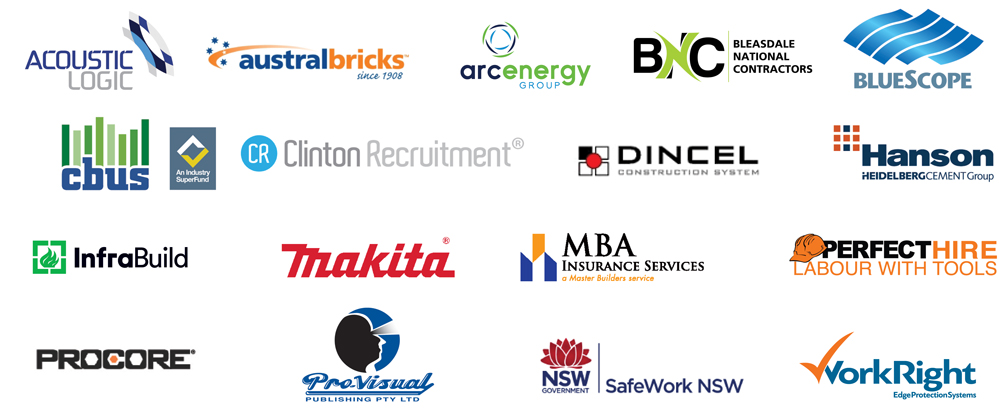 Publicity
The Master Builder Magazine will publish a special feature on the Awards.