CPC10111 Certificate I in Construction
Convert your years of experience into a nationally recognised qualification 
Start anytime
No time off site - fit your evidence gathering around your work and family commitments 
No need to attend classes
You could earn a qualification in as little as 3 months  
We service anywhere in NSW
We come to you! Our assessors come to your workplace to conduct the skills assessment
Unlock your earning potential 
IT'S AS EASY AS 1, 2, 3!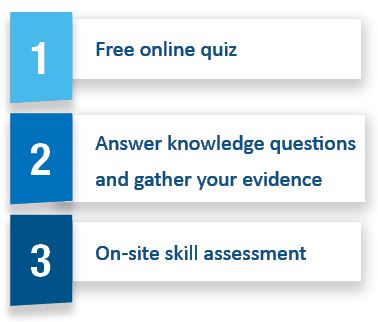 OUTCOME
On successful completion of your assessment, you will be eligible to receive a CPC10111 Certificate I in Construction.
Once your assessment has been successfully completed and has been passed through a Quality Assurance review, you should receive your certificate within 28 days. 
WHAT NEXT?
Add your details below for more information and to receive an information brochure.
READY TO GO? .....APPLY NOW!
CLICK HERE to do your online quiz
WHAT HAPPENS ONCE I HAVE COMPLETED THE ONLINE QUIZ AND ENROLMENT?
Once you have completed your online quiz and your enrolment is confirmed, you will receive an RPL kit that will guide you through the on-site RPL process, starting with:
Demonstrating to us your knowledge by answering questions
Demonstrate your skills by gathering evidence of your industry experience (see Evidence section below for more information)
Determine the tasks that you do not have evidence of completing previously
What is the eligibility criteria for Construction RPL?
You must have:
Minimum of one (1) year full-time (or equivalent) experience in the construction industry (experience must be within the last 10 years)
Valid White Card (general construction induction card)
Currently working on active projects
Details of 2 qualified/licensed referees within the relevant industry to confirm your work history/experience who have worked with you for 12 months or more 
Answer at least 80% of the online quiz correctly during your application process
WHAT TYPES OF EVIDENCE DO I NEED TO PROVIDE?
The evidence that you will need to gather for your Construction RPL program should include:
Video footage of your performing tasks on site
Time-lapse photos of you performing tasks on site
Certificates you have already gained 
Project management documentation
You will need to demonstrate your skills in the following on-site tasks:
Remove and replace an exterior screen door
Remove and replace a front or rear door
Remove and replace windows
Repair and patch a plasterboard wall or ceiling with a hole in it
A small construction project from scratch (e.g. a pergola, or BBQ area)
Quotes that you have prepared
What happens with the on-site assessment?
Once you have submitted your answers and the evidence you have gathered, one of our industry professional assessors will review them and will advise you if any additional evidence is required. 
When your evidence is complete, your assessor will organise a time to visit you on-site.
On-site, our assessor will:
Observe you working on current projects demonstrating your skills
Take notes of what they observe you demonstrating and assess your skill level
Work together with you to identify any gaps in your knowledge and skills and put a plan in place to fill those skills gaps
After all the evidence is gathered, the answers are marked, and you are observed and assessed on-site, your RPL process will be complete.
NSW GOVERNMENT SUBSIDISED TRAINING
Master Builders has a contract with the NSW Government (Department of Industry) to offer and provide training and assessment programs under the government's Smart and Skilled program.
Eligibility and course availability criteria apply. To find out if you are eligible visit the Smart and Skilled NSW website. Master Builders learning consultants can also assist you with your enquiries.
How do I find out about becoming a licenced trade professional?
NSW Fair Trading provides all licensing for tradespeople who work in the building and construction industry of New South Wales.
Find out everything you need to know about becoming a licenced trade professional on the NSW Fair Trading website.